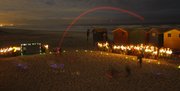 London — Europe's best known landmarks — including the Eiffel Tower, Big Ben and Rome's Colosseum — fell dark Saturday, following Sydney's Opera House and Beijing's Forbidden City in joining a global climate change protest, as lights were switched off across the world to mark the Earth Hour event.
In the United States, the lights went out at the Empire State Building in New York, the National Cathedral in Washington, D.C., and the Coca-Cola headquarters in Atlanta, among many other sites in the Eastern time zone.
Millions were expected to turn off lights and appliances for an hour from 8:30 p.m. in a gesture to highlight environmental concerns and to call for a binding pact to cut greenhouse gas emissions. This year's was the fourth annual Earth Hour, organized by the World Wildlife Fund.
"I think it's great to see that hundreds of millions of people share this common value of lowering our carbon footprint," said Dan Forman, a spokesman for WWF in Washington.
Some 4,000 cities in more than 120 countries — starting with the remote Chatham Islands off the coast of New Zealand — voluntarily switched off Saturday to reduce energy consumption, though traffic lights and other safety features were unaffected, organizers said.
"We have everyone from Casablanca to the safari camps of Namibia and Tanzania taking part," said Greg Bourne, CEO of WWF in Australia, which started Earth Hour in 2007 in Sydney before it spread to every continent.
Other sites expected to participate in the U.S. were businesses on the glittering Las Vegas strip and the Mount Rushmore presidential monument in South Dakota. The lights stayed on at the White House, U.S. Capitol and the Lincoln and Washington monuments, though they were switched off at the Smithsonian Institution and the National Portrait Gallery.
In Europe, Italy's Leaning Tower of Pisa, the Arc de Triomphe in Paris and buildings across Germany went dark. Amsterdam planned to cut the lights at most city buildings including Schiphol Airport, Artis Zoo and the Amsterdam Arena.
"It's saying to our politicians — you can't give up on climate change," said WWF spokeswoman Debbie Chapman in the U.K.
Buckingham Palace and the British Parliament building were scheduled to go dark to support the campaign, along with other famed London landmarks including St. Paul's Cathedral and the Royal Albert Hall, as well as Edinburgh Castle in Scotland.
"Tackling climate change is urgent and vital to both safeguard our environment and our children's future. We can make a difference if we act now and act together," said British Prime Minister Gordon Brown, who switched off lights at his Downing Street residence in London.
Rome switched off the lights of the Trevi Fountain, the 18th-century landmark where many tourists flip a coin in hopes of coming back to the city. State-TV RAI showed the fountain that was immortalized by Federico Fellini in "La Dolce Vita" falling dark.
Moscow's iconic and imposing State University, perched on a hill overlooking the city, all but disappeared into the darkness as the city took part in the protest. The gigantic Luzhniki Stadium nearby also went black, as did the skyscraping Ukraina Hotel downtown. Restaurants in Vladivostok had a so-called Candle Evening, promoting Earth Hour as a chance for romance.
Copyright 2018 The Associated Press. All rights reserved. This material may not be published, broadcast, rewritten or redistributed. We strive to uphold our values for every story published.