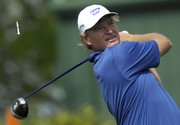 Orlando, Fla. — Winless for two years, Ernie Els put himself in position Saturday for his second straight victory.
Els made sure the last two holes did not unravel a solid day of work at Bay Hill. He made a 10-foot putt to save par on the 18th hole for a 3-under 69, giving him a one-shot lead over Ben Curtis in the Arnold Palmer Invitational.
The Big Easy is starting to make golf look that way.
Two weeks after his four-shot victory at Doral that ended the longest drought of his career, Els broke 70 for the third straight round at Bay Hill and was at 10-under 206.
"There's a lot of work left," said Els, who last won at Bay Hill in 1998 when he dominated Tiger Woods and Davis Love III in the final group of a 36-hole Sunday.
Curtis looked just as good. He just didn't finish. The former British Open champion had a two-shot lead until he chopped up the par-5 16th hole from 60 yards short of the green. He bladed a wedge some 70 feet long and three-putted for bogey on the easiest hole at Bay Hill. Then, he went long on the par-3 17th and chipped off the green for another bogey.
Curtis had to make a 6-foot par putt on the 18th to keep it together with a 70, leaving him one shot behind.
They will be in the final group today with Chris Couch. Couch had a par and a 69 and was at 7-under 209.
Phil Mickelson was nowhere near the lead. Right when he was starting to build momentum with his putter, Mickelson made only two putts longer than 5 feet and staggered to a 75, leaving him seven shots out of the lead.
GOLF
Seo extends Kia lead
Carlsbad, Calif. — Hee Kyung Seo shot a 3-under 69 Saturday to widen her lead to five strokes after three rounds of the inaugural Kia Classic. Taiwan's Candie Kung was second.
Michelle Wie, who is trying to win her second LPGA event, shot a 1-over 73 and is tied with China's Shanshan Feng for third place, six strokes back. Feng shot a 68, tied for best round of the day with Cristie Kerr and Sweden's Anna Nordqvist.
Pavin fires record 63
Cap Cana, Dominican Republic — Corey Pavin birdied his last four holes for a course-record 9-under 63 Saturday and a one-shot lead over Nick Price after two rounds of the Champions Tour's $1.6 million Cap Cana Championship.
Pavin broke Bernhard Langer's Punta Espada Golf Club record of 64 during the third round of the 2009 tournament. Pavin had nine birdies in all is at 13-under 131 on the 7,170-yard, Jack Nicklaus-designed course.
Price was bogey-free in his second straight round of 66.
Fred Couples and Larry Mize were tied for third at 11-under after both shot 66.
TENNIS
Fish turns back Murray
Key Biscayne, Fla. — The stadium erupted when Mardy Fish walloped the final shot of the match for a winner, and he let loose a jubilant roar of his own. The American earned one of the biggest victories in his 10-year career Saturday at the Sony Ericsson Open, where he upset 2009 champion Andy Murray, 6-4, 6-4.
While U.S. tennis fans could boast about the upset, their lone remaining hope on the women's side also advanced. Three-time champion Venus Williams reached the fourth round by beating Roberta Vinci, 6-1, 6-4.
AUTO RACING
Harvick wins truck race
Martinsville, Va. — Kevin Harvick won the NASCAR truck race Saturday at Martinsville Speedway, pulling away from teammate Ron Hornaday Jr. on a restart with 19 laps left.
This was Harvick's second consecutive victory in the truck series.
He led for 187 laps Saturday and asserted his dominance throughout the race, especially on a restart with 43 laps to go. Timothy Peters was to his outside when the race went back to green. Johnny Sauter was right behind and seemed to have a truck capable of challenging for the lead.
Hornaday finished second, followed by Brian Ickler, Peters and Johnny Benson.
COLLEGE FOOTBALL
Meyer offers apology
Gainesville, Fla. — Florida coach Urban Meyer apologized Saturday to the reporter he berated earlier this week for publishing a quote by one of his players. Meyer spent more than 20 minutes with the Orlando Sentinel's Jeremy Fowler following spring practice.
NFL
Linebacker Porter arrested
Bakersfield, Calif. — Authorities say NFL linebacker Joey Porter has been arrested in Bakersfield on suspicion of drunken driving and accused of assaulting an officer and resisting arrest.
The California Highway Patrol says the 33-year-old player was confronted by officers early Saturday in a fast-food parking lot.
Porter refused to provide his driver's license and began to roll up his window when asked to leave the car. Police say that when an officer reached to unlock the door Porter slapped the officer's hand.
Porter eventually got out and complied with orders, placing his hands behind his back. He and a passenger were arrested.
Bears' Louis pleads guilty
San Diego — Chicago Bears offensive lineman Lance Louis has been sentenced to 40 hours of community service and anger management classes for an altercation that happened while he was playing at San Diego State.
Louis was also sentenced to three years of informal probation and a $565 fine as part of his plea deal with the San Diego City Attorney's Office after pleading guilty to misdemeanor assault.
Authorities say Louis assaulted SDSU teammate Nick Sandford in a team meeting room last fall. Sandford suffered a concussion, broken eardrum and fractured cheekbone.
BASEBALL
Rangers acquire Blanco
Phoenix — The Texas Rangers have acquired second baseman Andres Blanco from the Chicago Cubs for a player to be named or cash. The deal was announced Saturday. Blanco was unlikely to make Chicago's 25-man roster and he was out of options. In 2009, his 10th professional season and first with the Cubs, Blanco batted .252 with one homer and 12 RBIs in 123 at-bats.
Twins tell Jones no
Fort Myers, Fla. — Jacque Jones has been told that he will not make the Minnesota Twins' opening-day roster. Jones hit .344 this spring with two home runs and three doubles.
Copyright 2018 The Lawrence Journal-World. All rights reserved. This material may not be published, broadcast, rewritten or redistributed. We strive to uphold our values for every story published.