On the street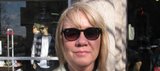 Our accountant files them online.
Listening to an iPod that plays everything from Johnny Cash to Dethkolk, 27-year-old Robert Knowles dons a Lady Liberty costume and rocks out on a sidewalk along 23rd Street.
Under a slight rain, he performs intricate sign twirls, points at passing cars and never stops moving in an effort to attract more traffic to Liberty Tax Service.
In a tax season during which more people are completing their returns online from home and the country's largest tax preparers are seeing a decline in business, Knowles' dancing Statute of Liberty is one tactic Liberty Tax Service is using to bring in more business.
"It's not necessarily a struggle, but we have had to work pretty hard as far as finding new methods," said Paul Livingston, the marketing manager for the Lawrence franchise of Liberty Tax Service.
In the beginning of the year, the company offered anyone filing a tax return $50 on the spot. Throughout the season, Liberty conducted special promotions to file taxes for free for teachers, paramedics, police officers and the military. And, dressed as Lady Liberties, staff visited dozens of businesses each day to advertise and drop off cookies and doughnuts.
"We have to kind of show people and help people understand we are here," Livingston said.
Nationwide, the Internal Revenue Service has seen the number of taxpayers filing their returns electronically from home rise by 7 percent compared with last year at this time. In Kansas, the number has grown by 10 percent.
At the same time, the country's two largest tax preparers, H&R; Block and Jackson Hewitt, have seen a drop in business.
Elizabeth Crist, an enrolled agent with a Lawrence Jackson Hewitt franchise, has seen a "whole different landscape" emerge over the past three years.
"The (customers) that come in the door are different types of tax returns," she said. "The people that can do them themselves are certainly trying harder to do them themselves … and a lot of them come in just to make sure they do them right."
Filing from home
Of the more than 660,000 returns the IRS has received so far from Kansans, 89 percent have been filed electronically, with nearly 40 percent of those coming from home computers.
"It's the fastest, safest, most accurate way to do it," IRS spokesman Michael Devine said. "Whether they are using software they've purchased or saving some money by doing it through the IRS free file system, we are just glad they are doing it electronically rather than the old paper and pencil method."
Lisa Hallberg, a Lawrence Web developer, has been doing her taxes online for the past decade. She wouldn't have it any other way.
"I would rather be informed. I would rather do it myself," she said.
Hallberg isn't your 1040EZ form kind of taxpayer, either. She owns a home, has rental property and runs a small business on the side of her regular job. She saves receipts throughout the year so she can write off charitable donations. She keeps track of items that have depreciated and tracks what new credits are out there.
She uses TaxACT software, which she first downloaded for free and then years later paid to upgrade.
"It just asks you for very straightforward, easy-to-understand questions and before I knew it, I was getting the refund," Hallberg said of her first experience filing online. "It was really easy."
Professional guidance
Of course, mistakes are made by people who decide to tackle taxes on their own. Taxpayers put down the wrong social security number, misspell names and give an incorrect bank account number, Devine said.
This year, one of the more common errors the IRS has seen is failing to claim the Making Work Pay credit, which is worth up to $400 a person and $800 a family and available to taxpayers with earned income.
Each year, do-it-yourself taxpayers miss out on the new credits available through changes in the tax code, which Livingston said is a good reason to use a tax professional.
"We can get you your maximum refund just because we stay up to date on the tax law and the credits that are available that people just don't know about," he said.
Hallberg was reassured of her tax-preparing skill when she visited a financial adviser, who happened to be a tax lawyer. The planner found one big error, a credit Hallberg hadn't claimed. But Hallberg learned how to amend a tax return, and she still got a refund.
"It was very reassuring that for the most part I was doing it right, but it also reminded me I needed to keep being informed and use as many resources as I can to keep understanding what is that I need to do to do my taxes right," she said.
If you want to try doing taxes yourself, check out these tips.
Copyright 2018 The Lawrence Journal-World. All rights reserved. This material may not be published, broadcast, rewritten or redistributed. We strive to uphold our values for every story published.