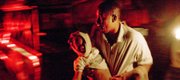 A 7.0 magnitude earthquake occurred 10 miles southwest of Port-au-Prince on Jan. 12, causing widespread devastation in Haiti's capital and throughout the country.
Port-au-Prince, Haiti — Three-year-old Stefi Pierre giggles with delight as she uses her new artificial leg to launch a soccer ball across the room — a joyful moment with foreign aid workers that masks the uncertain future for her and thousands of other amputees in Haiti.
The girl's wobbly, shuffling steps are her first on a difficult road to recovery in a temporary rehabilitation center treating victims of the Jan. 12 earthquake, which left Haiti suddenly overwhelmed with amputees like Stefi. She and others who lost limbs, some with multiple amputations, now face the practical realities of struggling for survival in a devastated Haiti as well as a social stigma in a country that has never been kind to the handicapped.
Stefi's mother, Fabian Pierre, says she's more worried about her daughter being shunned than the surgery she will need soon to correct her rushed amputation.
"Once she goes to school, it's going to be an issue," Pierre said. "Some people will have a problem with it."
As many as 4,000 people had amputations from the magnitude-7.0 earthquake that the Haitian government says killed an estimated 230,000.
Those who lost limbs need elaborate follow-up treatment because the surgeons, rushing to save as many lives as possible, often made "guillotine" amputations — a straight cut through flesh and bone that did not leave enough skin for proper healing or cushion for an artificial limb, said Bob Horton, a nurse with Merlin, a British nonprofit medical aid group.
Some wounds are infected from inadequate follow-up treatment, an agonizing situation for the often-homeless survivors as well as the foreign and Haitian doctors and nurses who treat them.
While many amputees, including Stefi, remain hospitalized, others have been discharged with nowhere to go but squalid shantytowns, the so-called temporary settlement camps that are home to some 600,000 people in the quake zone.
At a field hospital that London-based Merlin runs out of tents on a tennis court, senior health coordinator Eba Pasha said they have had to perform second operations on victims who return with infected stumps.
"Ordinarily in the West, it would be a nice, clean environment," Pasha said. "When people go back into the community and their wound hasn't healed, we're seeing them again."
A physical handicap is a huge disadvantage in Haiti, where more than half the population was unemployed before the quake. With no way to compete, many have been cast off and left to beg on the streets, feeding a stigma against the disabled.
"In Haiti, when you are disabled, you are forgotten," said Michel Pean, the secretary of state for the integration of the disabled.
Pean said his agency has been pushing for employment quotas and integrated schools to end the isolation of handicapped students. As the capital rebuilds, he said the government should consider ramps and accessibility for this generation of quake amputees.
For now, at the prosthetics workshop in the basement of an unfinished supermarket, patients line up to test their new legs and show only determination as they take halting steps hand-in-hand with aid workers.
In Stefi's case, there is also joy.
"Before she had the crutches, she used to get mad and cry and hit her leg," her mother said. "Since she got the crutches she has been running all around."
Copyright 2018 The Associated Press. All rights reserved. This material may not be published, broadcast, rewritten or redistributed. We strive to uphold our values for every story published.