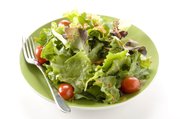 So you ordered the salad instead of the burger. Good for you — or maybe not!
A recent salad test from ShopSmart, the shopping magazine from the publisher of Consumer Reports, found that you're better off with the burger in some cases. Panera Bread serves some of the healthiest and tastiest salads, but Chili's is another story: The Quesadilla Explosion salad with dressing is a calorie bomb. It packs 1,400 calories — almost as many as Chili's Classic Bacon Burger.
That's just one of the shockers ShopSmart's food experts found when they checked the nutrition of 20 salads sold at eight major chains. They focused on chicken-based salads because the chains they reviewed offered at least one version.
"Just because it's a salad doesn't mean it's diet food!" said Lisa Lee Freeman, editor in chief of ShopSmart. "Add-ins can sometimes add up to almost as many calories as a bacon burger."
Shopsmart's healthy choices at major restaurant chains:
Winners
• Panera Bread's BBQ Chopped Chicken Salad, with mild BBQ sauce, no dressing (350 calories)
• On the Border's Citrus Chipotle Chicken Salad, with Mango Citrus Vinaigrette (290 calories)
Runners-up
• Panera Bread's Asian Sesame Chicken Salad, with crispy wonton strips and almonds, no dressing (320 calories)
• Panera Bread's Fuji Apple Chicken Salad, with pecans, no dressing (370 calories)
• Wendy's Chicken Caesar Salad with Grilled Chicken Fillet, with home-style garlic croutons, no dressing (240 calories)
Best from other chains
• Olive Garden's Grilled Chicken Caesar Salad, without Caesar dressing (430 calories)
• McDonald's Premium Southwest Salad with Grilled Chicken, without Creamy Southwest dressing (320 calories)
• Burger King's Tendergrill Chicken Garden Salad, without ranch dressing (270 calories)
• Sonic's Santa Fe Grilled Chicken Salad, without ranch dressing (312 calories)
Not so hot
• Chili's Grilled BBQ Chicken Salad with barbecue sauce and ranch dressing (1060 calories) and Quesadilla Explosion Salad (1,400 calories)
Expert tips to turn any salad into a tasty, hearty meal:
Make it hearty
• Mix in whole grains, like brown rice, farro or spelt, to promote fullness with fewer calories.
• Think sandwich fixings, such as good-quality bread, chunks of deli meat or chopped pickles, for a more substantial and a more surprisingly delicious salad.
• Serve it warm to make it feel more like a satisfying meal than an appetizer.
Make it healthy
• Turn up the flavor in home-made dressings, using good-quality oil, fruit juice or a sweeter and less aggressive vinegar.
• Swap out mayo and cream for puréed avocados, low-fat yogurt or buttermilk to cut calories and fat.
Make it fast
• Stock up on tasty condiments that add flavor, like zingy mustards, flavorful oils, chopped pickled peppers, garlic, chili and new varieties of salt.
• Plan your leftovers to save cooking and prep time. Cook extra meat for dinner that can be chopped up into a hearty salad the next day.
• Buy no-cook proteins for easy, ready-to-go add-ins, like canned tuna, anchovies, beans and nuts.
Watch those extras
Little packets of sauce and dressing, plus stuff like croutons and crispy wontons, can add a lot of calories, fat and sodium to an otherwise healthful salad. Try these calorie-curbing tips:
• Always ask for dressing on the side and drizzle it on to taste, one tablespoon at a time. That's about three plastic teaspoons' worth.
• Sprinkle on fewer croutons, tortilla chips and nuts. Add just enough to keep it interesting.
• Choose salads with more nutritious add-ins like fruit, peppers, and tomatoes, which have a lot of flavor.
Copyright 2018 The Lawrence Journal-World. All rights reserved. This material may not be published, broadcast, rewritten or redistributed. We strive to uphold our values for every story published.