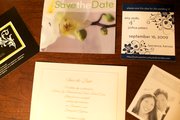 "Jeff and Erin's Epic Wedding Trailer" is a YouTube sensation. In it, the bride and groom-to-be, Erin Martin and Jeff Wong of Sidney, Australia, star in a jaw-dropping, four-minute "movie trailer" that tells the story of how they met, illustrates the journeys (literal, not figurative) they've taken together, recreates Jeff's bended-knee proposal, and ends in blockbuster style by announcing the date of their impending nuptials.

It is so impressive, perfect strangers are vying for seats at their wedding.
Lawrence wedding consultant Carmen Bamber Hocking says about 60 percent of her clients choose to send save-the-date notices, but she has yet to see anything of that caliber, effortwise.
"I had one couple, awhile back, who made a video and sent it to each of their guests saying we're engaged, this is the best time of our lives, we have chosen this date, please reserve it," Hocking recalls. "But most people are opting for a postcard or what I call a mini-card."
Planning ahead
Hocking says many couples send "save the dates" as soon as they become engaged or have firm details to share with friends.
"The reason people do it anywhere from six months to a year out is so their guests — as well as family — can make hotel reservations and transportation needs, whether it be plane, train or whatever," she says. "The couple can reserve blocks of hotel rooms under their names, and that information can all be put on the save the date. You don't have to put all the information on there, especially if you are doing a Web site. Normally, it will also say 'invitation to follow.'"
Local bride-to-be Erica Weston, whose wedding to Norman Bouwie III is July 17, sent their save-the-date notices in January, electronically.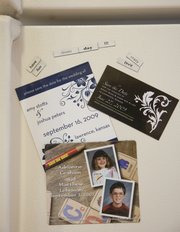 "We did them via e-mail," Weston says. "We felt that it would be cost-effective, and we communicate with a lot of people on e-mail, anyway. We did have to print off a couple hard copies to send to our older relatives who aren't computer-savvy and don't do e-mail."
While many couples design their own save the dates, Weston and Bouwie sought professional assistance.
"My fiance's friend was a graphic designer," she says, "so he told her what we were looking to do. She just asked for a picture of us and took it from there. We sent them out from our (wedding) Web site, so that way people could view the Web site, too."
Hocking says couples are becoming more creative all the time, and the latest trend is save-the-date magnets.
"The idea with a magnet is so every time your friends go to their fridge, they think of you," she says. "People put their pictures on them, and many add a splash of their wedding colors, if they've chosen them. One of my couples used photos of themselves when they were children (on a magnet). It was really well-done. If it's something that's a good visual and really captures the bride and groom, right then and there, it's effective."
While dispatching save-the-date cards well in advance might help wedding guests plan ahead, it doesn't replace the need for a well-timed wedding invitation.
Hocking says the rule of thumb is around eight weeks. Weston plans to mail out her invitations in mid-May.
"Everything I've read gives a wide range — anywhere from six to 10 weeks before your actual date," Weston says. "We choose to go early because we're anticipating not getting a lot of RSVPs back, and having to make a lot of calls, because we know our family and friends. The catering people need a head count two weeks out, and people just don't RSVP anymore. They just say, 'Hey, we're coming,' and it doesn't work very well like that."
Copyright 2018 The Lawrence Journal-World. All rights reserved. This material may not be published, broadcast, rewritten or redistributed. We strive to uphold our values for every story published.