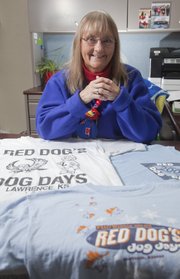 "I didn't starting running until I was 44 when I couldn't run 100 yards without becoming breathless," says Ellen Young, representative at Mike Grosdidier's State Farm insurance office.
"I was 65 pounds overweight and didn't want my daughter to have the fattest mom in junior high."
Young's regime of walking, healthy eating and regular participation in Lawrence's Red Dog's Dog Days has helped her dissolve the extra pounds, keep them off for 12 years and maintain a high level of fitness. Encouraged by Red Dog organizers Don and Bev Gardner, and other Dog Day participants, she's learned to run and completed half-marathons in places like California, Nebraska and Missouri. She finished her first full marathon in Dallas in December.
Young was active as a child and teenager in Topeka. She participated in many recreational activities, including swimming, and worked at several Topeka pools, where she had opportunities to coach juvenile delinquents.
"I discovered many of them came from broken homes and got into trouble with the law because of truancy," she says. "I knew they had good hearts, and I decided I wanted to work with them."
She graduated from Washburn University in 1975 with a Bachelor of Arts in corrections, became recreation coordinator at a Topeka girls' home, and moved to Lawrence in 1978. She worked at Stanion Wholesale Electric but was fired for dating fellow employee Doug Young. The company's policies forbade employees to have romantic relationships.
Love prevailed. She married in 1980. Two children and 14 years later, Young was overweight.
"I was so busy taking care of others I forgot to take care of myself," she says.
Things changed in 1994 when she accompanied 21 sixth- and seventh-grade Girl Scouts on a five-day trip to St. Louis.
"We walked everywhere, and I lost 5 pounds even though we ate lots of teenager junk food," she says.
On her return to Lawrence, Young embarked on early morning walks and healthier eating. She lost 30 pounds over three years. When she accompanied her junior high daughter, Kristina, to Dog Days at Memorial Stadium in 1997, she decided to join in.
"Red Dog really pushes everyone," she says. "I couldn't get a quarter of the way around the stadium, but Bev (Gardner) ran beside me and encouraged me. Over time, I could run further and further. Six months later I did my first competitive race — the 5K Shamrock Shuffle."
When her husband became critically ill in 2003, Dog Day participants rallied around her. She says the Gardners and many others accompanied her every step of the way during Doug's six-month struggle for life and his death in 2004.
"I couldn't have done it without them," she says.
She continued the early morning trainings and says they sustained her during the long vigils at Doug's bedside.
"Participating in Dog Days changed my life," Young says. "It's my second family. They've supported me through the rough patches in my life, made it possible for me to lose weight and keep it off, and maintain an all-round healthy lifestyle."
Copyright 2018 The Lawrence Journal-World. All rights reserved. This material may not be published, broadcast, rewritten or redistributed. We strive to uphold our values for every story published.