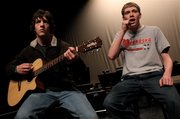 Past Event
When: Thursday, March 25, 2010, 7:30 p.m.
Where: Free State High School, 4700 Overland Drive, Lawrence
Cost: $7
-->
-->
You would think that those involved in a high school musical production, especially one devoted to choral arrangements of pop songs, would really like "Glee." Seeing as how "Glee" is a popular television show about high school students who perform choral arrangements of pop songs, it seems a safe assumption. Nope.
In fact, don't even mention "Glee" to Hilary Morton. Morton is the director of choirs at Free State High School and in the middle of directing "Encore," the annual song-and-dance extravaganza of choir-meets-Top 40. She is, ironically, not a "gleek."
When asked during a recent rehearsal in the Free State auditorium if she is a fan of the Fox hit, Morton turns to the dozens of students in the hall and bellows like a drill sergeant, "Do I like 'Glee'?" Without missing a beat — they are musicians, after all — they briefly stop studying their music or practicing their steps and all respond in unison, "No."
This dismissiveness more than likely stems from the fact that "Encore" and its Lawrence High School equivalent, "Showtime," have been out-gleeing "Glee" for decades. For example, this year's Encore has a cast of 148, features 35 songs covering everything from The Beatles to "Flight of the Conchords," and is almost guaranteed to sell out all three nights of its run.
"What's funny is that, both here and at Lawrence High, there's no assigned seating. It's general admission, so people start waiting outside the doors starting at 2," says Morton of their rabid fanbase. "There are lines of people by the time I show up, and I'm here a couple of hours before the show starts. It's nuts. We open the doors, and they just run in. It's quite an ordeal, and I'm like, 'Wow. For a high school choral production.'"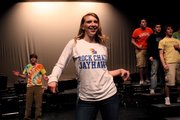 Yet in terms of scope, this year's show will even give Bollywood a run for its rupees. "I'm performing 'Jai Ho' from 'Slumdog Millionaire,' so that should be nice and different," says Free State senior Ali Zaidi. "We've got an auxiliary percussionist who does all of the cool tabla drums. We're really trying to make it as authentic as possible and trying to recreate the whole Bollywood setting with having a bunch of dancers."
All of that opulence comes at a price, however, which is a grueling rehearsal schedule. "Encore" is only open to juniors and seniors in the choir program, most of whom already have a full dance card (no pun).
"It's a huge time commitment, especially on weekends," says Clare Frantz, Free State senior who's performing in, among many other songs, "Black Bird" and "Somebody to Love." "Social life is usually what goes. Sometimes grades slip that month."
But those sacrifices transmute into triumph on opening night.
"It is exhausting, and it is tiring, and it is worth it every year," Morton says. "It's really worth it that week when we just get to sit and watch the show. You put on the lights and costumes and get the band behind them — they just grin from ear to ear. For a lot of them, it's their most memorable experience from high school."
Regardless of how a particular night goes, as they spill out into a throng of well-wishers in the commons area of Free State High after their final performance, the sense of pride and accomplishment these kids feel will remain long after. So "Glee" ain't got nothing on Encore.
"It's a sense of elation," says Zaidi. "The whole community is here, and they're all congratulating us. It's just really special to be in the spotlight at this age and having so many people involved with it. I feel really great about it, and I'm sure I'm going to miss it later on."

Copyright 2018 The Lawrence Journal-World. All rights reserved. This material may not be published, broadcast, rewritten or redistributed. We strive to uphold our values for every story published.