Lawrence was anticipating his arrival for days, and there were numerous confirmations of his imminent approach. The town was electrified. Naturally, the visitor would be coming on foot, easily recognizable by his dapper dress, wooden staff and quick pace. Yet a little after four in the afternoon, an older man appeared. His stride seemed lethargic, gait unsteady, and the trousers were torn and bloodied.
This befuddled-looking character clearly had to be an impostor; perhaps some local farmer engaging in a silly and embarrassing prank. The Lawrence dignitaries exchanged long, confused looks with one another. The date was March 22, 1910, and the man they were expecting was known as "the Pedestrian."
Ironically, Edward Payson Weston came to national fame because he was on the short end of an 1860 presidential election bet. The losing party was to walk from Boston to Washington to suffer the humiliation of witnessing the winner's candidate swearing-in. Somehow Weston would turn this public defeat into a remarkable career.
A few days after the wager, the telegraph wires announced an Illinois Republican had been elected. Weston reluctantly knew he was on the hook. Months later he did indeed complete the 478 miles journey in a little over 10 days. Either by design or miscalculation he missed the swearing-in by a few hours. However, the country's new commander-in-chief heard of his wandering exploits and sent an inaugural ball invitation his way. To Weston's surprise he was warmly received by the newly elected president himself, Abraham Lincoln.
On the train ride back to Boston, the 22-year-old bookseller realized he had both the ability and temperament to walk great distances. His walking résumé would eventually include many accomplishments. In 1867 he completed a walk from Portland, Maine, to Chicago in 26 days. This 1,200 mile odyssey paid off handsomely for Weston, earning him the tidy sum of $10,000. Over the ensuing decades he successfully competed nationally and in Europe in so called "walking races," the forerunners of today's ultra-marathons. These indoor contests lasted days and covered hundreds of miles.
For decades he was recognized throughout the world as its greatest walker. But as he grew older, he was not about to quit or retire as do modern athletes.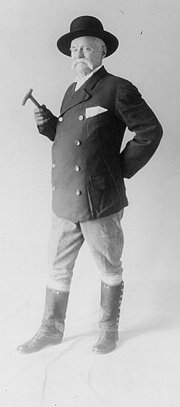 Fellow traveler
Returning stateside in his late 60s he walked from Philadelphia to New York, a distance of over 100 miles in less than 24 hours. Then in 1907, at age 68 he decided to challenge himself by repeating his earlier Maine to Chicago trek. His goal was to best his time when he was 40 years younger. He did so, arriving a full 24 hours earlier than his 1867 accomplishment. There seemed no way to slow down his irrepressible spirit.
In 1909 he left New York City on foot and completed a "walk" to San Francisco. Then in 1910 he set off on his most challenging adventure. He departed Santa Monica on an early morning in February, announcing he would complete another trans-continental crossing; this time in 90 days. For every day under 90 days he would receive a $500 incentive from a benefactor. This endeavor marked his eventual nexus to Lawrence.
Although Weston's arrival in Lawrence had been tracked for hours and days, another traveler was expected to arrive a month later in April. Although no crowds would escort the visitor, this nomad was expected one evening out of the east. And this wanderer took a much different form than Weston. This celestial celebrity went by the name of Halley's Comet.
On cold clear nights, many Lawrence residents were peering through binoculars straining to obtain the first sighting of the cosmic drifter. They were searching for a dull starry blur with a wispy tail. Each resident was anxious to rediscover its return after a 75-year jaunt through the solar system. About the third week in April all were able to easily view the icy ball pitched by the Gemini twins toward the mane of Leo. This gradual movement across the firmament confirmed the comet's nearing rendezvous with the Sun.
But this return was fraught with ominous warnings. Some new scientific instrument, the spectrometer, was able to discern evidence of various gases expelled by the comet's tail. The analysis further discovered the presence of the deadly poison cyanogen. And to make matters worse, Earth was expected to pass through the remnants of the icy tail in mid-May. Many now conjectured this would prove to be the demise of both humanity and life on earth. All this would occur in a few short weeks.
Heat wave
A month before Halley's re-appearance, Weston's journey to Lawrence was less than meteoric. On the morning of March 22, he awoke at 5 a.m. feeling stiff from the previous day's 63-mile trot. But today he would face an enemy unfamiliar to date: extreme heat. He left Topeka at 6 a.m., but only five hours later he would be overcome by the sun and had to rest in the shade. The heat forced a stop at a Lecompton farmhouse and a quick nap. When he rose a little after noon, the temperature had soared to 90 degrees — a record that still holds in many parts of Kansas to this day. He resumed his walk, albeit at a slower pace, staggering his way into Lawrence at 4:15 p.m.
A great many of the citizens and students at Kansas University were there to welcome him.
He stumbled on toward the Santa Fe Hotel. His complexion took on a pallid appearance, and a doctor noted an unusually rapid pulse. In a comfortable room he quickly collapsed into bed.
Hours later he arose and found he had regained some of his former vigor. This fact convinced him that he could continue on with the day's journey. He was now in better spirits and was able to properly welcome many of the Lawrence residents.
"The heat is intense, and it has affected me more than last year at midsummer," he apologized to the crowd.
Weston acknowledged the throngs by courteously donning his cap while flashing his bright smile. He would often add, "I like the people of Kansas because they have so much thought." He signed many autographs and thanked those who had come to cheer him on. But even at this late afternoon hour he yearned to find the road eastward and avoid the day's intense heat.
That evening others were to join him. Besides a bevy of Kansas City newspaper men, Weston was gladdened to be accompanied by Harry Kemp, a young university student-poet. Kemp would latter be nationally known by many appellations including the "Vagabond Poet," the "Hobo Poet" and the "Tramp Poet." He was considered a popular youth hero of his day.
Weston and Kemp walked into the night together. Perhaps they talked about the wanderer's life, the pleasures and pressures of fame or just about their personal philosophy. Sadly the content of their conversations was never recorded. They retired from their post-dinner amble about midnight.
The following morning Weston breakfasted on his customary diet of three poached eggs, toast and coffee. He and his small entourage then pushed on toward Kansas City and reached the city limits at 2 p.m. The heat would take its toll on the day's mileage. But again Weston would receive his daily energy boost from the large crowd of well-wishers. Kemp would remain behind as Weston pushed on to the Missouri border.
Poetry in motion
By the time Halley's tail finally slipped through the atmosphere (without incident) above Lawrence, Weston had already completed his cross-country walk. On May 5, 1910, he was greeted by a mob on the steps of City Hall in New York City. He completed the adventure in not just 90 days but in 76, tramping over 3,500 miles. Three year later, at 74 years of age he completed his last big adventure walking from New York to Minneapolis. Afterward, he continued to extol the virtues of exercise and eschewed riding in automobiles when possible. Sadly, many years later he would be struck by a New York taxi, never walked again and died peacefully at the age of 90.
Kemp would enjoy a notable and controversial career until his death in 1960. He wrote hundreds of poems and befriended the likes of Upton Sinclair, Sinclair Lewis, Eugene O'Neil and E.E. Cummings. As a public figure he was known for his bohemian lifestyle and devil-may-care attitude. For this he shared a kindred spirit with Weston. Both were driven by unique interests, extraordinary talent and great energy.
One March evening, these itinerant characters met on a road in Lawrence and shared a trajectory that neither could have imagined when they were young men. And they also shared a special time in America when all seemed achievable and new ground was worth exploring. Freedom and independence defined their lives. Their spirits have continued to this day, 100 years later.
Perhaps Kemp summed it up best:
Great Spirit, when I soar away
Beyond the confines of this Day,
And sing because my earth-life's done,
And gaze back at the lessening sun:
I pray that thou wilt make me free,
To roam through all infinity,
Where comets roar with maddened hair,
While the stars turn pale and stare,
Like huddled herds of frightened sheep,
Else, give me, Lord, eternal sleep:
I do not care in heaven to bide,
Forever by the Bridegroom's side

— Thomas Clark is a freelance writer who lives in Ho-Ho-Kus, N.J.
Copyright 2018 The Lawrence Journal-World. All rights reserved. This material may not be published, broadcast, rewritten or redistributed. We strive to uphold our values for every story published.