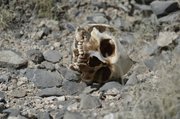 Mexico City — More Americans in Mexico are falling victim to a wave of drug violence sweeping the country, a change driven home by the recent killing of a U.S. Consulate employee and her husband who were gunned down after leaving a children's birthday party.
The number of U.S. citizens killed in Mexico has more than doubled to 79 in 2009 from 35 in 2007, according to the U.S. State Department's annual count. No figures were available for the first two months of 2010.
While only some of the killings are specifically listed as "executions" or "drug-related," the increase in homicides appears to be related to drug battles. In Ciudad Juarez, the northern border city hardest hit by drug violence and where the consulate employee was killed, homicides of Americans rose to 23 in 2009 from two in 2007.
The annual murder rate for the estimated 500,000 American citizens in Mexico at any one time has risen — but still remains lower than in some U.S. cities: about 15 per 100,000. Baltimore's 2009 homicide rate was 37 per 100,000 residents.
American deaths make up only a tiny fraction of Mexico's 17,900 drug-related killings since December 2006, when President Felipe Calderon launched a military-led drug war.
On Saturday, a clash among armed men left eight people dead in the Pacific coast state of Sinaloa. The bodies of seven men were found inside two cars along a highway connecting the cities of Culiacan and Mazatlan, said Sinaloa prosecutors' spokesman Martin Gastelum. An eighth victim, dressed in a fake federal police uniform and holding a grenade, was found near the cars, Gastelum said.
The government says the majority of those killed in Mexico's drug violence were involved in the narcotics trade. But an increasing number of bystanders are dying in the crossfire, and Americans are among them.
Tania Lozoya, 15, of El Paso, Texas, was killed by a stray bullet at her aunt's house across the border in Ciudad Juarez in May 2009, after gunfire broke out when two men chased another man into the backyard of the residence.
In December, a California assistant school principal, Augustin Salcedo, was killed after he was abducted from a restaurant along with five other men while he and his wife were visiting her hometown of Gomez Palacio, in the northern state of Durango. The motive for the mass abduction remains unclear.
Copyright 2018 The Associated Press. All rights reserved. This material may not be published, broadcast, rewritten or redistributed. We strive to uphold our values for every story published.