Photo Gallery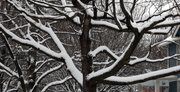 March 19-20 2010 winter storm
Winter Weather
Winter weather information
9:52 a.m.
Lawrence could see 1 to 1.5 additional inches of snow accumulation by Saturday evening as the remainder of the winter storm moves past.
According to 6News Chief Meteorologist Matt Elwell, periods of both light and heavy snow should pop up in the area before the storm begins to taper off around 2 p.m. Snow flurries could linger into the evening without adding any measurable accumulation. The current winter weather advisory would most likely not be upgraded to a watch or warning, Elwell said.
"We're still going to see snow and maybe periods of heavy snow," Elwell said. "But we're done with the heavy accumulation."
Elwell measured the accumulation in Lawrence this morning at just less than 4 inches.
4:20 a.m.
The National Weather Service in Topeka has canceled the winter storm warning that was in effect for Douglas County.
A moderate amount of snow fell on the area overnight and an additional 1 to 2 inches are still possible. The conditions made driving very hazardous and many drivers reported having their vehicles slide off roadways. No one reported being seriously injured.
1:36 a.m.
The snow continues to fall and the roads are slick. A number of vehicles have been sliding from the roadways while trying to navigate during the winter storm.
The Kansas Department of Transportation has listed several roads in Douglas County as completely snowpacked and icy:
• I-70/K-10 to Lawrence
• U.S. 59/K-10 to the Douglas/Johnson County line.
• U.S. 24/K-32 (NORTH LAWRENCE) to Douglas-Leavenworth County line
• U.S. 24/U.S. 40/U.S. 59 to U.S. 24/K-16
• Big Springs to U.S. 40/U.S. 59 (Lawrence)
• U.S. 59/U.S. 56 to Lawrence
None of the roads have been closed but drivers should allow significantly more time for stopping.
12:00 a.m. Saturday
The snow has already begun to fall in Lawrence, making for some slick roads and hazardous driving conditions. The precipitation is expected to continue falling through the day Saturday and into Sunday morning.
6News Chief Meteorologist Matt Elwell said he expected about 2 to 5 inches of snow to fall in the area.
Temperatures have also dropped off for the evening and should be hanging just above 30 degrees. Winds are also expected to pick up, with gusts up to 35 miles per hour.
Friday
9:45 p.m.
A cold wintry mix is falling in Lawrence creating some wet road conditions. The mix is expected to turn to snow later Friday evening as the storm system passes through the area.
2:12 p.m.
6News Chief Meteorologist Matt Elwell says it may be too early to count on the 6 to 8 inch number.
At the moment, he's expecting more in the 3 to 5 inch range, but the data is still changing.
2:00 p.m.
The National Weather Service has issued a winter storm warning for Douglas County and surrounding areas beginning at 10 p.m. tonight and ending 7 a.m. Sunday.
According to the latest forecast, rain should start falling this afternoon before changing to snow in the late evening. Snow will fall between Friday night and early Sunday, potentially resulting in 6 to 8 inches of accumulation. Snowfall combined with winds of 25 to 35 miles per hour overnight could make for hazardous travel conditions due to limited visibility.
Morris, Douglas, Lyon and Osage counties were all included in the winter storm warning, which was issued at 1:57 p.m.
Copyright 2018 The Lawrence Journal-World. All rights reserved. This material may not be published, broadcast, rewritten or redistributed. We strive to uphold our values for every story published.