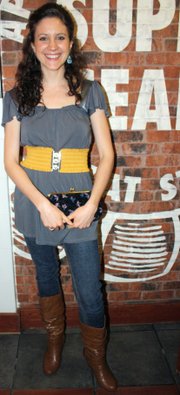 Lyda Kendrick
Age: 27.
Sign: I'm on the cusp of Pisces and Aquarius, but I consider myself a Pisces.
Time in Lawrence: One and a half years.
Hometown: East Point, Ky.
Occupation: Student in speech-language pathology.
What were you doing when scouted: Eating at Jimmy John's.
How would you describe your style: I guess eclectic. I kind of just wear whatever I like. Kind of girly, too. I like pretty feminine things like flowers and lace. I like vintage stuff because that tends to be feminine.
Who are your fashion influences: I like looking at old pictures of my grandmother's because they were glamorous. I don't get all glammed up like they did, but I think it's cool how they used to be glamorous every day.
What are your favorite fashion trends: I don't really follow trends that much. I like how people are wearing tall boots. I like skinny jeans and boots, but I don't like jeans that are uncomfortable — so comfortable skinny jeans. I like materials that feel soft and nice.
What are your least favorite fashion trends: I know they must be comfortable, but I really don't like those Ugg boots. I thought they were going to go away, but they never did. There are cuter things you could wear as your default shoe in winter. And if you're going to wear ugly boots, wear really functional ugly boots.
What would you like to see more of in Lawrence: More yummy late-night food options. Your choices are pretty restricted. And more reasonably priced laundromats. I like Lawrence a lot.
What would you like to see less of in Lawrence: Less expensive stuff and ridiculously cold weather.
People say I look like: I've gotten Blythe Danner and Mary-Louise Parker.
Tell us a secret: I don't know if the underwear I have on belong to my mother or my sister, but I don't think they're mine.
Shirt: Monteau, purchased at a store in Chicago called Presence two years ago.
Belt: Purchased at Presence two years ago.
Jeans: Purchased at Presence two and a half years ago.
Boots: Steve Madden Girl, purchased at alternativeoutfitters.com a month ago.
Earrings: Purchased at Goldmakers for a friend's wedding seven months ago.
Bag: Belonged to my grandma, I've had it since I was a kid.
Ring: Vintage, purchased at an antique store in Chicago two and a half years ago.
Copyright 2018 The Lawrence Journal-World. All rights reserved. This material may not be published, broadcast, rewritten or redistributed. We strive to uphold our values for every story published.