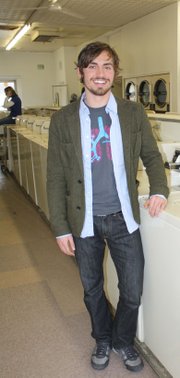 Alex Ward
Age: 25.
Sign: Aquarius.
Time in Lawrence: Two and a half years.
Hometown: Fort Scott.
Occupation: Substitute teacher, DJ and musician in The Noise FM.
What were you doing when scouted: Hanging out at a laundromat. I've got a washer and dryer; I just like to watch things spin around.
How would you describe your style: Preppy indie rock, but more Britt Daniel of Spoon than Vampire Weekend.
Who are your fashion influences: If I had money, I would dress like Robert Downey Jr. in perfectly tailored suits all the time.
What are your favorite fashion trends: On guys, I like lots of layers. On girls, I like excessive accessories.
What are your least favorite fashion trends: Uggs worn with pocketless jeans. Also, I just learned about jeggings, and I'm not sure about them.
What would you like to see more of in Lawrence: I'm perfectly content with Lawrence.
What would you like to see less of in Lawrence: Anonymous posters on lawrence.com saying negative things, and potholes.
People say I look like: When I substitute teach, kids say I look like Peter Petrelli from "Heroes." I also get Johnny Depp, Peter Pan and slightly sleazy actors in general.
Tell us a secret: I absolutely hated Twitter a year ago, and now I'm obsessed with it. My handle is @thenoisefm.
Jacket: Fink Clothing, purchased at Urban Outfitters a year ago for $29.99.
Shirt: Purchased at Old Navy a year ago for $9.99.
T-Shirt: Traded with Cowboy Indian Bear for a Noise FM T-shirt.
Jeans: Purchased at Gap a year ago for $19.99.
Shoes: Tiger, a gift from my mom six months ago.
Copyright 2018 The Lawrence Journal-World. All rights reserved. This material may not be published, broadcast, rewritten or redistributed. We strive to uphold our values for every story published.