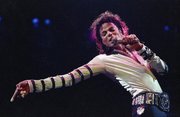 Los Angeles — The man who spearheaded the record-breaking deal in which Michael Jackson's estate will get up to $250 million in the next seven years said Tuesday that Sony Music Entertainment bought a treasure trove of new Jackson music, some of it recorded "quite recently," some in collaboration with other artists.
John Branca, who negotiated the deal along with co-executor John McClain and team of attorneys, was clearly elated about the deal. He said in an interview with The Associated Press that this is only the first of more deals that will bring Jackson's music to his fans and introduce it to a world of potential new fans.
"The remarkable thing is to make the biggest deal in history in a market with declining record sales. It's a pretty big thing," Branca said. "It's a testament to Michael's incredible talent and his music. It's really an honor to be part of this."
He added that "there's more to come" but declined to elaborate. He also would not discuss the finances or specific details of the deal.
Branca is the lawyer who met the superstar singer when both were young men and is seen as the architect of Jackson's financial empire. They worked together for 30 years.
He and John McClain, a lifelong Jackson friend and music producer, are co-administrators of the Jackson estate. The estate has benefited from their deal to release the movie, "This is It," compiled from footage of rehearsals for a series of concerts that was in preparation when Jackson died last June at age 50.
Branca said he is convinced that Jackson would be delighted with the results of their negotiations.
"John McClain said it best," Branca said. "He said that Michael probably wouldn't have wanted 'This is It' released because he was such a perfectionist and it was rehearsal footage. But if he had seen that we could get $60 million for his mother and children and it became the biggest concert movie of all time, he would have said, 'Thank you very much.'"
He said he has not heard all of the 60 plus songs discovered by McClain but he said what he has heard is "classic Michael Jackson." Among the songs are two recordings that were never released that he made for charity with other stars. There are also songs he recorded for his famous albums that were never included in the final product.
"Michael had a tendency to over-record," Branca said. "He would record 20, 30, 40 songs for one album. These are the vintage songs."
The recent material was recorded within the last three years. The old and the new are likely to be combined on some of the albums to come, he said.
Among the songs in Jackson's vault is a collaboration with Paul Anka on a song called, "Love Never Felt So Good," which Branca described as "quite good."
Beyond the recorded material, he said Jackson left more songs that he composed but that don't have his voice on them. They would not have the same value, he said.
When he died, Jackson left recorded music including studio sessions from some of his most-popular albums and recently recorded songs made with the likes of Black Eyed Peas frontman will.i.am.
Branca noted that Jackson did not release a huge number of albums in his lifetime and his last one was nine years ago. He said the legacy of unreleased material is far more than what was left by Elvis Presley. He said Jackson's fan base is also larger, stretching around the globe.
"He is one of the most recognized figures in the world, along with Muhammad Ali," said Branca. He noted that two-thirds of record and movie ticket sales for "This is It" were outside the United States.
Under the deal officially announced Tuesday, Sony has guaranteed Jackson's estate $200 million for 10 projects over the next seven years. If certain conditions are met, the payment could rise to $250 million.
Since Jackson's death, McClain has combed through boxes of tapes and recordings Jackson left behind. McClain and Branca each stand to make 5 cents on every new dollar of revenue brought into the estate.
Even if only half of the 60 songs discovered by McClain are commercially viable, that would be enough for two or three albums. And some songs could also be packaged with already-heard material. That likely wouldn't detract from a new album's value. It might even add to it, because fans have been flocking to known commodities in music.
Copyright 2018 The Associated Press. All rights reserved. This material may not be published, broadcast, rewritten or redistributed. We strive to uphold our values for every story published.