NCAA Bracket Contest
Fill out your own bracket at kusports.com, and you could win a 42" plasma TV.
This is a magical time of year. The crocuses are blooming, the promise of warmer weather is in the air ... and Jayhawks fans everywhere are coming together to see Kansas University through the NCAA Men's Basketball tournament.
Now that the tournament bracket has been announced, and you've filled in KU to go all the way, all that remains is to pick the winners of all those "other" games.
Sure, it's never going to be as rewarding as writing in "KU," but this need not be a tedious exercise - even for those who couldn't care less about any other team.
We asked the Lawrence community to share techniques for filling out the bracket - the unusual, the bizarre, anything but those involving just "basketball knowledge."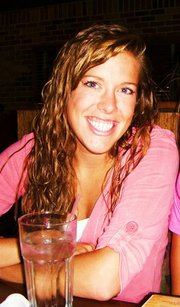 The Hot Coaches technique
Lauren Pollmiller
KU junior in accounting, KU women's rowing team
After filling out "real" brackets for a couple of years, Lauren Pollmiller got bored and decided it was time for a more interesting approach. Namely, picking winners based on which team has "the hottest coach."
On Selection Sunday, she spends a few hours visiting all 65 tournament teams' athletics Web sites, finding the coaches' pictures and putting them all into a document, she says.
"The fun begins when the coaches' faces face off," Pollmiller says. "This part can take awhile, especially when my roommate gets involved. We usually have some good laughs and some heated debates about hairlines and brow-bones."
Pollmiller says this year's tournament poses many difficult choices. Among her favorites to do well: Baylor's Scott Drew, Syracuse's Jim Boeheim ("I think Jim looks great for an older man."), Duke's Mike Krzyzewski, Villanova's Jay Wright and, of course, KU's Bill Self.
"Jay Wright and Bill Self are two of my favorites. Of course, (in 2008) they both made it to Sweet 16 and I spent a grueling 30 minutes drooling over two good-looking men. All I'm going to say is that my hot coaches bracket wasn't right that year," she says. "But my real one was - with KU winning it all!"
That's right - she also continues to do a "real" bracket, too, based on listening to the experts and doing some non-photo-based research, she says.
"But by the end of the tournament, I'd say both brackets are about equal. Not all that great, not too bad," she says.
Not that it matters a whole lot anyway - as a collegiate athlete herself, she's barred from betting with her bracket, even just amongst friends. For her, that payoff comes when her "Hot Coaches" bracket calls an upset nobody did.
"There's nothing that I love quite as much as pulling out my bracket for them to see, complete with a giant red heart drawn around my prediction," she says.
"Personally, I think getting to check out and scrutinize 65 coaches makes me a winner EVERY YEAR!"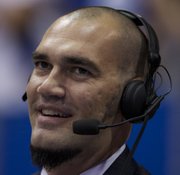 'Dumb Blonde' technique
Scot Pollard
1320 AM sports commentator and former KU basketball player
"For me, it's a short story. I'm pretty much like a dumb blonde when it comes to filling out brackets. I look at the two names, and think of which color, mascot, city or state I like better. If they match up pretty evenly based on those categories, I go to actual basketball knowledge. I've never won a bracket pool I played in, even when I have Kansas go all the way like in '08."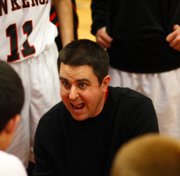 Kids' Picks technique
Mike Lewis
Lawrence High School basketball coach
Mike Lewis' sons spend more time in a basketball gym than most 3- and 5-year-olds.
"Not only watching the Lions play basketball," Lewis says. "Every night that we can watch the Jayhawks, we sit down as a family and put on our KU jerseys and support those guys."
So it's only natural that they'd fill out their bracket as a family, too.
"It ends up being a good time for our family to sit down and lay it out on the kitchen table," he says.
In the past he says his sons Macade and Luke have gone with teams mostly based on colors and mascots - and those brackets all ended up being "average." But this year he thinks some actual basketball knowledge will come into play. "They know all the Jayhawks' names," he says. "We'll definitely be a little more in tune this year."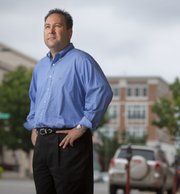 Homer technique
Lance Johnson
Lawrence city commissioner
Lance Johnson watches A LOT of college basketball. Still, his technique is a sort of extension of picking KU all the way.
"I usually stick with the Big 12. I don't think I've ever picked a Big 12 team to lose in the first round," Johnson says.
Even Missouri? "Generally I never root for Missouri, but when it comes to the NCAA Tournament I actually pull for them," Johnson says, laughing.
He thinks Baylor and Texas will do better than most expect them to. "I honestly think Texas has a chance to beat Kentucky. I really do," he says.
"I could see K-State getting to the Final Four," he says. "If KU has to beat them a fourth time, that's going to be rough."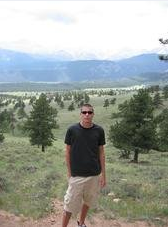 Coin Flip technique
Jarric Miller
Lawrence High School graduate
Jarric Miller thinks his college basketball knowledge is pretty solid - he's a huge KU fan and Big 12 basketball fan, and he always makes a point to catch higher-profile games from other conferences throughout the season. Still, he's never had much luck in his bracket pools. Suffice it to say, coin-flipping fared no better.
"Of course, if the coin-flip method had worked it would have been awesome to rub it into the faces of all my buddies who thought their brackets out. Instead they ridiculed me beyond belief when I was pretty much out of the running to win the pool after the first weekend," he says.
Copyright 2018 The Lawrence Journal-World. All rights reserved. This material may not be published, broadcast, rewritten or redistributed. We strive to uphold our values for every story published.