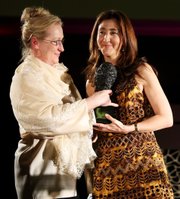 It was hard to tell who was more impressed when film star Meryl Streep presented a leadership award to Ingrid Betancourt, the former Colombian presidential candidate who endured years of captivity in jungle camps.
Betancourt was one of four women honored Saturday at the inaugural DVF Awards, created by fashion designer Diane von Furstenberg to honor women working for change in their countries.
For the event, the designer took a United Nations reception room and transformed it into a nightclub scene with patterned couches, small trees and pink-hued candlelight.
Betancourt, a French-Colombian who was running for president of Colombia when she was kidnapped in 2002 by leftist FARC guerrillas, quipped that she didn't know who was more impressive, the presenters or the women being honored.
As for Streep, she wondered how Betancourt endured years of captivity in the jungle without losing her spirit. "Myself, I can't imagine not being destroyed by this," Streep said.
Betancourt, 48, was freed in 2008 in a dramatic rescue operation and now lives in France, where she was raised.
She said in an interview before the awards ceremony that she isn't ready to return to live in Colombia. Nor does she think it's time to seek political office again: "I'm not ready for politics right now," said the former Colombian senator.
Sadiqa Basiri Saleem, an Afghan women's rights activist, was another recipient of a DVF Award, receiving her statue from CNN anchor Christiane Amanpour.
She said she hoped to use her award money, $50,000, toward building the first Afghan women's college.
The other honorees were Danielle Saint-Lot, an activist in Haiti, whose award was presented by Melanne Verveer, the U.S. ambassador-at-large for global women's affairs, and Katherine Chon, head of the U.S.-based Polaris Project, which combats human trafficking. Her award was given by ABC's "Good Morning America" co-host Robin Roberts.
Copyright 2018 The Associated Press. All rights reserved. This material may not be published, broadcast, rewritten or redistributed. We strive to uphold our values for every story published.