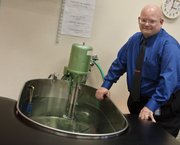 Stories of survival
This is the first in a series of stories profiling cancer survivors.
Rex Prior was only 8 years old when he was diagnosed with testicular cancer.
Twenty-six years later, in December 2008, the Baker University student was rushed to the emergency room at Lawrence Memorial Hospital, where a blood clot was discovered in his lung. He was told that his cancer, diagnosed as stage IV, was back.
He went through "really rough chemotherapy" that kept him in the hospital for the majority of his treatment because of his reaction to cancer-killing drugs.
Prior dealt with his illness without help from his family. His mother was ill and his father had moved to Oklahoma.
But, he said: "I still had Baker."
His school, along with the oncology staff at Lawrence Memorial Hospital and some friends, made sure Prior was taken care of after leaving the hospital and made arrangements for him to live in a nursing home so he wasn't alone. Prior's dad moved to Kansas to live with him.
"Being a cancer patient profoundly affected my life because when you're in school and you're trying to do your best, life's difficult enough. And then you throw something like cancer into the mix," he said.
Now, Prior's cancer has returned again. His already complicated, financially disastrous life has become even more complex.
Cancer has taken his home. It's taken his job. It would have taken his car had an LMH social worker, Dona Snead, not spoken to the car company on his behalf while he was in the hospital.
Now, he's a patient at the Kansas University Hospital in Kansas City, Kan., where he's scheduled to undergo a stem cell transplant today. He hopes the procedure helps his body fight the cancer nodules.
"There are a lot of them around my heart and lungs," he said. "They're all in my body. But the one they're most concerned about is near my heart."
Until the most recent diagnosis that his cancer had returned, Prior had worked in Baker's sports medicine office. Now he's had to quit school and the job he so enjoyed.
As a patient in the transplant program, he must live within 30 minutes of the hospital. A friend who runs a motel is giving him the best rate possible on a room.
"By the time this is over with," he said Friday, "I'm going to be completely broke."
But Prior isn't focusing on that problem. He's funneling his energy into getting better.
"I don't give up, I don't quit," he said. "They thought I'd be dead by now."
He's planning a return to school, to complete the last two years of work before he earns his bachelor's degree. This time, he'll probably enroll in online courses so he can stay at home.
And, of course, he'll be battling cancer.
"Just never give in," Prior said. "Always fight it."
Copyright 2018 The Lawrence Journal-World. All rights reserved. This material may not be published, broadcast, rewritten or redistributed. We strive to uphold our values for every story published.