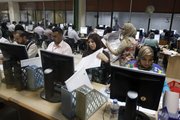 Baghdad — First results from Iraq's parliamentary election showed the prime minister and his secular rival locked in an extremely tight contest Thursday amid fraud allegations by rival parties and a chaotic, unpredictable vote count.
The partial tallies came from only five of Iraq's 18 provinces. However, Iraqi officials who have seen results from across the country said Prime Minister Nouri al-Maliki's coalition appeared to have a narrow edge, though not an outright majority.
That foreshadows tough and lengthy negotiations to build a government and choose a prime minister.
The partial results, posted on TV screens in Baghdad to crowds of reporters, were the first in an election that will determine who governs the country as U.S. troops go home — and whether Iraqis can put behind them deep sectarian tensions that once brought their nation to the brink of civil war.
The initial tallies from Sunday's vote suggested an exceedingly tight contest between coalitions led by al-Maliki, who gained popularity as security improved, and former Prime Minister Ayad Allawi, a secular Shiite who sharply criticized the prime minister for failing to boost reconciliation efforts between Iraq's factions.
The emerging picture was a setback to hard-line religious Shiite political leaders who saw al-Maliki make gains in two southern provinces deep on their turf. Allawi appeared to be drawing on Sunni support north of Baghdad.
Results did not include the race's big prize — Baghdad — which accounts for 70 of the parliament's 325 seats.
Thursday's announcement set off a wave of fraud accusations, largely from Allawi's Iraqiya coalition, which said it uncovered dozens of violations. It said these included soldiers not being allowed to vote, interference in the electoral commission's work and some polling stations failing to post results.
In a statement, the group said it found "rigging to an extent that would render the elections useless for reflecting the voice of the Iraqis."
Election commission officials did not respond specifically to the allegations, but said the commission had received more than 1,000 complaints about potential violations, all of which would be investigated.
Al-Maliki gained ground against hard-line religious parties in two southern provinces. In Babil, where about a third of the ballots had been counted, the prime minister's State of Law coalition won some 69,000 votes. He also came out on top in Najaf, where his bloc won some 56,000 votes.
The tallies were a blow to al-Maliki's main Shiite competition, the religious Iraqi National Alliance, which includes a party led by anti-American cleric Muqtada al-Sadr.
Since rising to prominence as part of a Shiite coalition that won the 2005 elections, al-Maliki has tried to recast himself as an inclusive leader for all Iraqis.
Allawi's nonsectarian Iraqiya list, which included Sunni candidates, fared better in central Iraq, where there are more Sunni voters. In Diyala province, Iraqiya received almost 43,000 votes, more than four time's al-Maliki's take. In Salahuddin, Allawi's list had more than 34,000 votes, about five times that of al-Maliki.
Analyst Joost Hilterman of the International Crisis Group said the initial results were largely what he expected. He cautioned that final calls are hard to make without knowing about Baghdad.
"Who gets Baghdad is still the most important thing," he said.
Results from a fifth province, Irbil, showed the Kurdish Alliance, representing the two main Kurdish parties, defeating the upstart Kurdish party, Gorran, in the self-rule territory.
Iraqi officials who have seen wider counts from across the country said al-Maliki's coalition appeared to be coming out on top.
Copyright 2018 The Associated Press. All rights reserved. This material may not be published, broadcast, rewritten or redistributed. We strive to uphold our values for every story published.