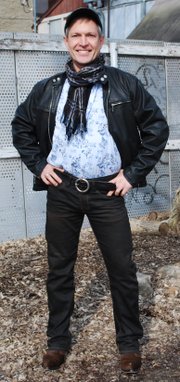 Jim Grimes
Age: 51.     Hometown: Kansas City, Kan.
Time in Lawrence: 30 years.
Occupation: Headmasters salon owner.
What were you doing when scouted? I was shopping for sunglasses downtown.
How would you describe your style? Urban chic with a Midwestern influence. I like a contemporary, comfortable fit.
What are your wardrobe essentials? I wear all black attire at work. I typically buy shirts with spots because of my work - the hair color can be damaging to clothing.
What are your current favorite fashion trends? I look for interesting clothing with interesting textures, colors and prints. Some of my favorite designs come from Custo, a Spanish line that tends to incorporate intriguing textures with patches or designs on printed shirts.
What are you least favorite fashion trends? Clothes that don't complement the shape of the body.
What would you like to see more of in Lawrence? More outdoor street parties downtown. More people downtown, a diverse crowd - dressed-up and colorful.
Who are your fashion influences? I research hair trends for my customers in the spring fashion issues of Vogue and W. I look at the editorial bits in the back for the overall trends in color, shape and texture. I can inform my clients about contemporary, modern looks; then, they know what styles are current and decide if such a style is right for them.
People say I look like: I've had all sorts of comments over the years. Most recently, I was told I resemble Richard Chamberlain. I've also been told I look like Andy Gibb, Tom Cruise and even Pierce Brosnan.
Tell us a secret: I love my boys, my dogs: B.J. and Beethoven. And I always wear cashmere socks in the wintertime.
Jeans: David Britton, Soho, November 2009, $150.
Dress shirt: VLux, Hobbs, Lawrence, February 2008, $168.
Scarf: Chelsey by Joseph, Nordstrom's, Kansas City, December 2009, gift.
Hat: Wigens, Nord-strom's, Kansas City, December 2009, gift.
Jacket: SF/415, TJMaxx, 2009, $50.
Belt: Epic Apparel, Lawrence, January 2007, $75.
Boots: Barneys, New York, December 2008.
Watch: Movado, 2006, gift.
Ring: John Hardy, Halls Department Store, Kansas City, September 2005, gift.
Copyright 2018 The Lawrence Journal-World. All rights reserved. This material may not be published, broadcast, rewritten or redistributed. We strive to uphold our values for every story published.