Related document

2000th Victory Commemorative Poster ( .PDF )
KU basketball tweets
Photo Gallery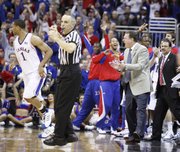 KU vs. Texas Tech
KU defeated Texas Tech 80-68 on March 11, 2010. It was the program's 2000th victory.
-->
FINAL: KU defeats TTU, 80-68
Aldrich with a nifty move inside, putting in a soft layup off the glass. Cohadarevic misses a long jumper, and with just two minutes left, KU's 12-point lead should be safe.
Collins drives, then dishes to Reed in the lane for a layup. Self claps his hands in satisfaction.
The Rock Chalk Chant starts with just under a minute left.
C.J. Henry checks into the game for his first action in a long time. He was injured early in the Big 12 season.
KU wraps up an 80-68 victory.
KU 73/TTU 63 — 3:40 left in game
Cohadarevic puts in a tough turn-around. He's up to 14 points on 7-for-10 shooting after barely touching the court yesterday against Colorado.
Aldrich travels, and Self yells at his team, "Get back! Get back!" after the ball is inbounded. Roberson still beats KU down the court, wiggling around Taylor for a layup with a foul. Self screams in frustration, then calls timeout to try to (again) refocus his team.
KU's two best players step up with the lead down to two. Aldrich picks off an offensive rebound, and Collins turns it into points with a three from the wing.
Following a TTU turnover, KU finds Xavier Henry in the corner, and he buries the three. The quick 6-0 spurt boosts KU's lead to eight, and after TTU calls its final timeout, Collins urges the KU fans to rise to their feet.
Collins adds two free throws, and KU has turned its game up at the right time.
KU 64/TTU 59 — 6:58 left in game
Vicious block by Aldrich, who pins the ball against the glass. Markieff takes a charge, and the defensive plays have given KU some momentum.
Taylor dishes to Xavier Henry, who buries a three from the left wing. KU extends its lead to 10 briefly.
The Jayhawks are trying to play at a frantic pace offensively, and Self holds up both palms, telling his team to settle down.
Collins is whistled for his fourth foul on a defensive rebound attempt. The senior guard is rarely in foul trouble, but he'll go to the bench with 8:10 left.
Nice pass by Markieff Morris, who dropped a nice pass to Morningstar on a backdoor cut to get KU an easy layup.
Another nice pass by Markieff, as he lofts the ball over the defense to Aldrich for a two.
KU gets beat down the court after the two — a rarity with a Self team — and Roberts slams it home. Self calls timeout. Tech isn't fading away.
KU 53/TTU 45 — 11:55 left in game
Xavier Henry with a steal, and he finishes on the other end with a layup. Perhaps his last three will get him going defensively, too.
Perhaps the strategy of having Aldrich try to score over a defender isn't unsound. Aldrich has been getting the ball deep in the lane, but he's had trouble getting his shot in over the big body Cohadarevic.
Collins once again gives KU a spark, dribbling into the lane before kicking out to Morningstar for a three. Collins has an extra burst in his step, perhaps because he rested to much in the first half.
Cohadarevic hammers Markieff hard on a layup try, and it starts a jawing session between KU and TTU's players. Markieff has some words for Cohadarevic, and Marcus Morris delivers talks some as well to defend his brother. Collins pulls Markieff Morris back before getting back up in Cohadarevic's face to let him know the act wasn't appreciated.
Roberts and Marcus Morris pick up off-setting technical fouls. Is that Marcus' first technical all year?
Marcus gets called for a moving screen, and that's a double whammy for KU. Not only is it Marcus' fourth foul, it also wipes away a three-pointer by Reed. Self yells across the court at the official, saying, "You've got to be kidding me!"
KU 47/TTU 37 — 15:54 left in game
Xavier Henry finally gets a three to go down, and his face says it all. The freshman pushes out a deep exhale after his shot goes through, and instead of feeling excitement, you can tell he feels relief for finally getting one to go down.
KU 44/TTU 34 — 17:26 left in game
Collins looks refreshed after sitting for a while with three fouls, putting in a three to start the second half. Marcus Morris follows with a 16-foot jumper. Collins curls around a screen and hits a shot from the elbow. The Jayhawks look bouncier offensively, if that makes any sense.
Xavier Henry misses a three, but Marcus Morris is underneath to grab the offensive rebound and stick it back in for two. The crowd comes to life for the first time all day.
Tyshawn Taylor is bailed out with a whistle on his layup attempt (looked like a clean block from Singletary), and KU has scored on its first five possessions of the second half.
KU scoring — Collins 9, Marcus Morris 7, Aldrich 7, Markieff Morris 6, X. Henry 2, Reed 2, Taylor 1.
KU was 10-for-28 from the floor (35.7 percent), 2-for-7 from three (28.6 percent) and 12-for-13 from the free-throw line (92.3 percent).
TTU was 12-for-30 from the floor (40 percent), 1-for-7 from three (14.3 percent) and 7-for-10 from the free-throw line (70 percent).
KU had eight first-half turnovers, while TTU had seven. Both teams had 20 rebounds.
One other stat of note:
• KU had just three offensive rebounds in the first half. The Jayhawks had 19 offensive rebounds in their first matchup against the Red Raiders.
KU 34/TTU 32 — Halftime
D'Walyn Roberts hits a free throw, and Singletary puts in a reverse layup to tie the score. Self calls timeout.
Two bad possessions in a row for Thomas Robinson, who turns it over with a bad pass before blowing a wide-open layup in transition on the next poessession. Self has no choice but to check Aldrich back in.
Big momentum swing, as Markieff Morris goaltends a Cohadarevic layup, but the officials don't call it. Knight goes nuts on the sidelines (as he should), jumping up and down and waving his hands side to side. Markieff is fouled in transition, and his free throws give KU a four-point swing.
Another layup inside for Markieff. His teammates have set him up well, but he's been KU's best finisher in the paint so far today.
Without Collins in there, KU looks disorganized on its final shot attempt. Reed finally drives, but his layup attempt is well off.
The Jayhawks take a slim two-point lead into the break.
KU 28/TTU 25 — 3:57 left in 1st half
KU's quick run a few minutes ago won't be the knockout blow. Roberson rises up for a three, and after a turnover by Xavier Henry, Reese puts in a layup with a foul. Suddenly, TTU is down just two again.
Xavier Henry tries a drive, but he's called for a charge. Self immediately checks him out, asking him why he didn't kick a pass out to the perimeter after getting into the lane. On the sideline, Self looks like he's watching a team he doesn't recognize when viewing his team today.
Both teams can't get open shots to go down. TTU is just 1-for-6 from three (16.7 percent) after making 39 percent of its threes in Big 12 play.
Collins fouls Nick Okorie on a three, and that's three fouls on Collins.
Markieff gets a three-second-in-the-lane violation. KU has been unlucky with that call this year.
KU 25/TTU 17 — 7:52 left in 1st half
This might be the quietest full crowd I've ever heard. KU fans, for some reason, tend to be nearly silent when they travel to K.C.
Markieff Morris misses a layup, and KU has gone 4 1/2 minutes without scoring a point.
Collins is fouled on a drive, and his free throws break KU's scoreless string.
TTU's Brad Reese misses a one-handed slam, and the ball caroms all the way back to mid-court. Cohadarevic later turns it over, and he sits on the court for a few extended seconds, showing up the officials. I don't think they appreciated that.
It took a few minutes, but Collins has found his form. He drives in, finding Marcus for a layup, then on the next possession takes it all the way to the rim for two.
In transition, Brady Morningstar finds the hot hand on the wing, and Collins buries the three.
A weird sequence follows. TTU calls timeout. Coach Pat Knight barrels three-fourths of the way across the court to yell at an official. Knight immediately gets T'ed up. That's a bad technical at a bad time for TTU, which was hanging in this game. KU has enough of an advantage without getting free points.
Collins puts in both technical free throws, and he's on a personal 7-0 run in this game.
KU 14/TTU 13 — 11:41 left in 1st half
Tyrel Reed with the poke away defensively, and Marcus Morris works on a layup drilll, missing two guarded ones inside before getting the third to go down.
The two reverse roles the next possession, as Marcus saves the ball from going out of bounds for a steal and Reed gets a two on the other end.
Sloppy play by both teams so far. TTU has four turnovers and KU has three. Both teams are trying to play fast, but neither are valuing the basketball particularly well.
Singletary rattles in a tough 18-foot jumper. He told me after yesterday's game that he believed he would rely more on his jump shot than his driving against KU because of the Jayhawks' many strong shot-blockers in the lane.
KU 10/TTU 9 — 15:27 left in 1st half
Right from the tip, Kansas tries to establish its presence inside. Cole Aldrich is fed the ball in the paint, and he hits a turnaround hook with a foul.
Marcus Morris follows with a three-pointer from up top, and KU has a 6-0 lead.
Sherron Collins gets away with a travel, but he turns it over anyway, throwing a pass to John Roberson, who finishes on the other end with a layup. When was the last time Collins started a game well? I honestly can't remember.
Collins turns it over again, and once again it turns into easy points for TTU, as Mike Singletary gets an uncontested jam.
TTU is chosing to not double-team Aldrich in the post. We'll see if that affects how KU attacks the Red Raiders offensively.
TTU's Darko Cohadarevic spins around Aldrich for a layup, and KU coach Bill Self yells at Aldrich, telling him to "pull his head out." The coach isn't happy with his big man early.
11:30 a.m.
Great KU contingent here. We aren't full yet, though, with lots of empties left in the upper deck. Maybe those are the tickets the scalpers were holding.
11:20 a.m.
The Missouri loss has resulted in tons of available tickets out there. While walking toward Sprint Center, I'm not sure I've ever seen so many scalpers with so many available tickets. That should benefit any KU fans looking to get tickets for Friday or Saturday's games.
10:44 a.m.
Welcome back to the Newell Post Live, coming to you from the Live Block of the K.C. Power and Light District. If you're coming to the Big 12 tournament, be sure to check out our KUsports.com booth, located between Johnny's and Tengo Sed Cantina in the Live Block portion of the K.C. Power and Light District (the block underneath the covered roof).
While here, sign up for prizes that will be given away later today. Also, Tom Keegan, Eric Sorrentino and I will be doing a "Spodcasters Live" at 4 p.m. from our booth, so join us for that.
If you aren't coming to K.C., be sure to check out KUsports.com at 4 p.m. for a live stream of the "Spodcasters Live" from the K.C. Power and Light District.
Copyright 2018 The Lawrence Journal-World. All rights reserved. This material may not be published, broadcast, rewritten or redistributed. We strive to uphold our values for every story published.