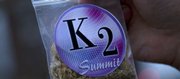 Lawrence is a focal point for the current debate in the Kansas Legislature about banning the active ingredient in an herbal substance known as K2. Follow the debate and the progress of the Kansas bills here.
Topeka — Gov. Mark Parkinson on Wednesday signed into law a bill that bans several chemicals found in K2, which has been used by some to get high.
"This legislation has received overwhelming support by Kansas law enforcement and the Legislature," said Parkinson. "It will help improve our communities by better equipping law enforcement officers in addressing this issue and deterring Kansans from drug use," he said.
House Bill 2411 amends the Kansas Uniform Controlled Substance Act to include several synthetic cannabinoids.
The substances were found in the product called K2, which had been marketed in several stores, including one in Lawrence, as an herbal incense.
But law officials said they were finding out that people were smoking K2 to get high.
The new law will go into effect upon publication in the Kansas Register, which is published weekly.
Copyright 2017 The Lawrence Journal-World. All rights reserved. This material may not be published, broadcast, rewritten or redistributed. We strive to uphold our values for every story published.