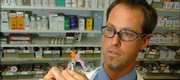 An outbreak of H1N1 Swine Flu was reported in Mexico in April 2009. By the end of May, it had spread across the U.S., with all 50 states reporting cases.
Kansas University is having a special H1N1 flu vaccine clinic on Thursday during the first half of the men's Big 12 Tournament game.
The slogan is "Be a winner and take a shot."
The clinic is for students and staff, and it's free. It will begin at 10:30 a.m. in Alderson Auditorium on the fourth floor of the Kansas Union, where a basketball game watch party will take place.
Those who get vaccinated can register to win one of two basketballs signed by men's Coach Bill Self and women's Coach Bonnie Henrickson.
Also, the first 150 people vaccinated will get a mini basketball and hoop.
The clinic is sponsored by KU's Student Health Services and the Lawrence-Douglas County Health Department.
Copyright 2018 The Lawrence Journal-World. All rights reserved. This material may not be published, broadcast, rewritten or redistributed. We strive to uphold our values for every story published.