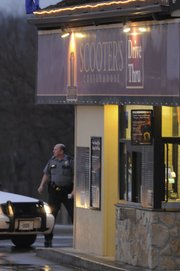 Lawrence police are searching for a suspect who held up two employees of a Lawrence drive-thru coffee shop at gunpoint Wednesday evening.
Officers were called to Scooter's Coffeehouse, 2005 W. Ninth St., about 5:45 p.m. Wednesday.
Lawrence police Sgt. Mark Warren said the suspect, armed with a silver handgun, came into the building and robbed the two employees inside.
Police describe the suspect as a black male, between 5-feet-10 to 5-feet-11 inches, with a medium build.
Warren said the suspect was wearing some sort of hat and had a medical mask covering his face.
Police are still trying to determine how much cash the man got away with.
Anyone with information on the armed robbery is urged to call the Douglas County CrimeStoppers tips line at 843-TIPS.
Copyright 2018 The Lawrence Journal-World. All rights reserved. This material may not be published, broadcast, rewritten or redistributed. We strive to uphold our values for every story published.