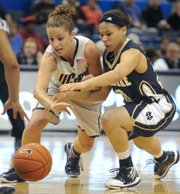 Hartford, Conn. — The road has run through locales as diverse as Jamaica, N.Y., and Cancun, Mexico, paved by labor, focus and performance.
Where those yellow bricks will end is a mystery. Certainly, the ditch will eventually appear and the UConn women will lose because, well, you can't win them all and the basketball world isn't composed only of Washington Generals.
But the Huskies didn't lose Monday. They made history. How could they not after traveling safely for so long since losing in the 2008 Final Four?
UConn dumped feisty Notre Dame 59-44 in the Big East semifinals before 9,334 at the XL Center.
The winning streak that began against Georgia Tech on Nov. 16, 2008, fueled by great players, fattened along the way by double-digit margins, has finally reached historic proportion.
But frankly, No. 71 wasn't much fun for the nation's top-ranked team.
"This is how I thought the other two games we played against Notre Dame might be," Huskies coach Geno Auriemma said.
Led by Tina Charles, who had 16 points and 17 rebounds, and Maya Moore, who had 11 points, 10 rebounds and six assists, the Huskies (32-0) broke the NCAA Div. I record for consecutive victories another generation of their players had set in 2001-03.
"I can't speak for everyone sitting out there that has a microphone or a pen that's going to ask me about this," Auriemma said. "But I'm sure that 71 doesn't change anything for us."
But more importantly for a program that values championships more than history, is that 71 springboards UConn to a possible 72, its sixth straight tournament final.
The Huskies will play ninth-ranked and second-seeded West Virginia tonight at 7. UConn has already won 15 Big East tournament championships.
"It's going to be another physical battle," Moore said. "You know, at this point, that you are not going to meet a team that doesn't play that way. . . . This is the postseason. You know that everyone is going to be coming at you with everything they have. So more than anything, we have to be ready."
Kalana Greene had 15 points and seven rebounds for the Huskies. Notre Dame (27-5) was led by freshman Skylar Diggins, who scored all 10 of her points in the first half.
The win did come at a cost. Sophomore guard Caroline Doty was hit hit in the head by an inadvertent elbow from Notre Dame's Ashley Barlow in the final minute of the game and might have a concussion. She is listed as questionable for tonight's game.
This third meeting between the teams this season wasn't like the first two, which UConn won by a combined margin of 49 points.
"Because we know we played God awful in those first two games," Diggins said. "(Monday) we played more like ourselves, with a sense of urgency."
UConn didn't get true separation until the first two minutes of the second half when a 7-2 run opened a 32-24 lead.
Moore's three gave Notre Dame coach Muffet McGraw reason to call timeout, sensing the deciding run had arrived. McGraw was correct. The Irish were about to be swept away.
"We were just missing shots," Charles said. "Coach told us we're a team that's used to making them and he wanted to see how we would react."
The winning blows were delivered by Greene and Tiffany Hayes. They scored on consecutive athletic efforts in a 30-second span to pump the lead to 42-31 — UConn's first double-digit margin.
The Irish came to play. They disrupted the Huskies in the first half, displaying much of the energy, especially on defense and in the battle for loose balls, that characterizes UConn's play.
"I've said all along that I don't care about the streak," Auriemma said. "It's going to end. I just want it to end the right way."
Copyright 2018 The Lawrence Journal-World. All rights reserved. This material may not be published, broadcast, rewritten or redistributed. We strive to uphold our values for every story published.