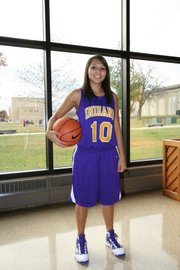 Kayla Davis wouldn't trade Justina George for any other roommate.
"She's amazing," Davis said. "She's a leader in everything she does, on the court and in the classroom."
Davis and George are members of the Haskell Indian Nations University women's basketball team that made history last week when it became the first HINU sports team to be selected for an NAIA tournament.
It's safe to say the Indians wouldn't be at the nationals in Sioux City, Iowa, if it weren't for George, a 5-foot-7 senior guard from tiny Ramah, N.M., who averages 18.3 points, 4.2 assists and 3.9 steals a game.
Not only was George chosen the Midlands Collegiate Athletic Conference player of the year, she excels as a student and quite likely will be named an NAIA Academic All-American.
"She's my role model," said Davis, a junior forward from Oklahoma City. "I look up to her. She's my live-in tutor."
For her part, George understands her position as an example of what a young Native American woman can do in life. She is often called on to speak at sports banquets in and around the reservation.
"I'm really, really careful," George said about how she conducts herself on and off the HINU campus. "I feel I've accomplished so much and feel fortunate because many people back home would love to play college basketball."
Over the years, many young women have, but few have been as successful as George — some because they weren't really, really careful, some because they lacked George's skills and others because of the Navajo culture.
Many Native American tribes believe the whole is equal to the sum of its parts, and all of the parts are equal, that it is against custom to distinguish yourself from the rest of the people.
Things Change
George certainly isn't hidebound to that mandate, if indeed it still exists.
"I don't think any longer that's the case," George said. "A lot of us want to do better for ourselves and for our families."
Two of George's siblings, for example, are also in college. Her father is a concrete-truck driver, her mother a teacher's aide.
George is majoring in environmental science and plans to pursue a masters degree in public health, probably at Arizona or Arizona State, although she says nearby Kansas University is also a possibility.
"When I first came here, I wasn't aware of all the opportunities," she said. "I just feel honored and fortunate."
She took a circuitous route to HINU, that's for sure.
After helping Ramah High win back-to-back small-class New Mexico state championships, she wound up at North Idaho Community College, where she spent her freshman year as a reserve on the basketball team.
"I was back in Idaho getting ready for my second year," she said. "But I was homesick in Idaho, and I felt I'd be around more native people if I went to Haskell."
One of those native people was Dominic Clichee, a member of HINU's men's basketball team who just happened to have been her high school sweetheart. They have since broken up, but Clichee remains, she said, "a very good friend."
Never Too Late
Long-time Haskell coach Phil Homeratha remembers receiving the call from George in August of 2007.
"It was the last week you can enroll here," Homeratha said. "I knew her from high school, so I said yes. Heck, I'm willing to take any transfer I can get."
George showed up in Lawrence on the very last day she could enroll.
"And it's been a fairy tale ever since," Homeratha said. "She's probably the best guard and team leader we've ever had."
Copyright 2017 The Lawrence Journal-World. All rights reserved. This material may not be published, broadcast, rewritten or redistributed. We strive to uphold our values for every story published.