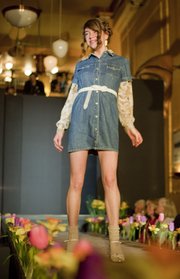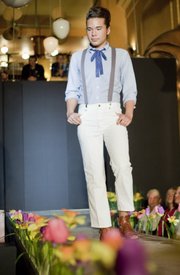 Audio Slideshow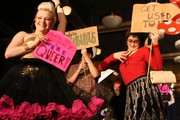 Spring Home & Garden Fashion Show
Lawrence's fashion community has joined the effort to raise money for Haiti's earthquake victims.
Local businesses and community members gathered March 1 for the Spring Home and Garden Fashion Show, drawing a crowd of more than 200 to Teller's.
Nick Ray, show coordinator and MC, says, "Monday's show exceeded my expectations by so much. I am proud of my community and the stylists involved. We've already begun planning another event for the summer!"
Read on for clothing details from the show and spring fashion ideas:
Wildman Vintage: Every look screamed springtime picnic, summer fun. Models appeared in voluminous dresses, broad-brimmed hats, retro swim trunks and rompers. Cutoff shorts, work-shirts, canvas bags and denim were also worked in, which added a distinct, Midwestern vibe to the looks overall.
GAP: Outfits were all-American, casual separates paired with simple accessories, like scarves, belts and cowboy boots. Female models wore monotone basics, colorful plaids, jean skirts, lightweight cardigans, skinny ankle jeans, floral tanks and cutoff shorts. Men's apparel included blue-jeans, striped pullovers and western-inspired shirts.
Social Service League: This run highlighted clean-cut, fitted menswear, denim dresses and high-waisted women's apparel-a nod to the female dandy. Soft hues created a calm cohesion among the clothing-trousers, waistcoats, suspenders and sandals with socks.
Miss Fortune's Creation Station: Models wore bright tights, funky patterns, shiny leggings and printed clothing. Outfits were attention-grabbing and fun. Bold hair and makeup completed each individual look.
Arizona Trading Company: A red, white and blue color palette was maintained throughout this run. Clothing shape, texture and style distinguished each look. Women wore belts and hair accessories-bows and flowers. Men wore fitted polos, gingham short-sleeve shirts and cuffed jean shorts.
Jayne Hansen: Intimate apparel was ultra-feminine, detailed with ruffles and bows, satin and lace. Camisoles were airy, bra-lets comfortable. Color-coordinated, matching bloomers completed each set.
David Goodwin: Pants, skirts, and dresses were soft, which created interesting movement in each garment on the runway. Mixed-metallic apparel was worn by models, draped with a variety of knitwear. The long knit scarves, legwarmers, arm-warmers and gloves added texture to each outfit.
Other fashion/style contributors included Greenroom Salon, Headmaster's Salon, Static Salon and Goldmaker's Jewelry.
The benefit proceeds total was not available at presstime.
Copyright 2018 The Lawrence Journal-World. All rights reserved. This material may not be published, broadcast, rewritten or redistributed. We strive to uphold our values for every story published.