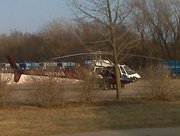 A woman was transported by air ambulance to Kansas University Hospital Sunday afternoon after she suffered serious injuries in an east Lawrence car-pedestrian hit-and-run accident.
According to Lawrence Police Sgt. Mark Warren, the incident started when a man and the woman became involved in a verbal and physical altercation outside a residence in the 1200 block of Almira. The man entered a vehicle. When the woman attempted to enter the car, the man shoved her out. He then backed the car over the woman, resulting in serious injuries.
The man drove southbound from the scene, striking a parked car a short distance away. Police arrested the man in the area of the incident at 4:53 p.m., 19 minutes after the original call was dispatched. The man was arrested on charges of aggravated battery and leaving the scene of an injury accident, among other charges, Warren said.
A LifeStar helicopter, which landed near the intersection of 11th Street and Haskell Avenue, departed for the hospital at 5:27 p.m.
Copyright 2018 The Lawrence Journal-World. All rights reserved. This material may not be published, broadcast, rewritten or redistributed. We strive to uphold our values for every story published.