Photo Gallery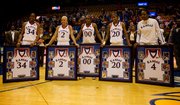 KU women vs. Texas A&M
Photos from the Jayhawks' senior night game against Texas A&M on March 6, 2010.
When it rains, it pours on Bonnie Henrickson.
Carolyn Davis joined the list of injured Kansas University women's basketball players, and the Jayhawks were thumped again.
With Davis shelved due to a concussion suffered during Friday's practice session, Texas A&M; had little difficulty disposing of the demoralized Jayhawks, 78-54, on Saturday in Allen Fieldhouse.
"What Bonnie has gone through this year," A&M; coach Gary Blair said of his KU counterpart, "nobody should have to go through."
Davis, who had picked up the slack following earlier injuries to starters Danielle McCray and Angel Goodrich, took a tumble during practice and hit her head on a teammate's knee.
"She's day-to-day," Henrickson said. "We're cautiously optimistic she'll be able to go next week."
Davis has until Thursday to recover. That's when the 10th-seeded Jayhawks will play their Big 12 tournament opener at Kansas City's Municipal Auditorium.
Even with the 14.2 points and 8.1 rebounds the 6-foot-3 Davis had averaged in the 13 games she started, however, the Jayhawks still will have to find a way to stop their ball-handling bleeding.
Texas A&M; leads the Big 12 in turnover margin, but that's no excuse for giving the ball away a whopping 30 times. Even more staggering, 20 of those KU giveaways came in the first half. That's right. The Jayhawks committed a turnover a minute.
"It was hard to watch," said McCray, one of five seniors honored after the game. "I wanted to be out there. It was real tough."
Times have been really tough for the Jayhawks ever since McCray and her 19 points a game were wiped out nine games ago due to a torn anterior cruciate ligament. During that span, KU has dropped seven, including the last five in a row.
Worse, the last three defeats — all to ranked teams — have been by an average of 24 points. In other words, the Jayhawks are in the tank.
"We've got to get back. We've got to get tougher," Henrickson said. "We have to play harder. Our effort was bad. We've been through a lot, but you have to keep fighting."
Or as Sade Morris, one of the five seniors at the postgame fete, conceded: "We just didn't come ready to play."
Perhaps the Davis injury was the straw that broke the proverbial camel's back. Whatever, what began as a promising season has reached the stage where the postseason — even the WNIT — is unlikely.
If the Jayhawks (15-14) lose their league tourney opener, for instance, six straight losses almost certainly would mean packing the uniforms away until next season.
"It's been tough mentally," senior LaChelda Jacobs said of the injury situation. "All my four years here we've never had this many players hurt, especially star players."
The other two seniors recognized Saturday were little-used bench players Kelly Kohn and Porscha Weddington.
"For that senior class, it should have been different," Henrickson said. "They deserve better."
Soph Aishah Sutherland led KU with 13 points. Morris added 12. So thin were the Jayhawks with Davis out that Henrickson used six players off the bench, and they combined for just three points, all on a three-pointer by Kohn.
Copyright 2018 The Lawrence Journal-World. All rights reserved. This material may not be published, broadcast, rewritten or redistributed. We strive to uphold our values for every story published.