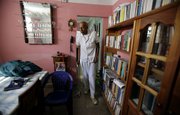 Santa Clara, Cuba — A dissident journalist who has gone nine days without eating or drinking told The Associated Press on Friday that he is willing to give his life to call attention to the plight of Cuba's political prisoners.
If he does, Guillermo Farinas would be the second hunger striker to die on the communist island in as many weeks, and his death would be sure to spark a new round of international condemnation of the Castro government.
"There are moments in the lives of nations where martyrs are needed and I think that moment has arrived," Farinas, gaunt, bald and with fallow brown eyes, said during an interview at his shabby, two-story home with walls of faded pink and lime-green.
Farinas was hospitalized Wednesday after briefly losing consciousness. Doctors gave him fluids intravenously, then sent him home, saying there was little more they could do if he refused to eat.
Farinas is already approaching the limit of how long most people can go without water. But his family plans to hospitalize him each time he loses consciousness, meaning more fluid treatments that could keep him alive for weeks.
He said doctors told him it will take five or six more days before he again reaches crisis stage.
A psychologist, Farinas became so frustrated with Cuba's single-party communist system that, in 2004, he began working for Cubanacan Press, a small dissident news agency reporting on the hardships of daily life.
Now 48, Farinas has held 22 other hunger strikes in the past 15 years, and has been jailed repeatedly for dissident activities on charges including disrespecting authority, public disorder and assault against a suspected undercover government informant.
This time, he stopped eating and drinking on Feb. 24, the day after jailed dissident Orlando Zapata Tamayo died following an 83-day hunger strike in which he only accepted vitamin-fortified liquids. Farinas is demanding the release of 26 political prisoners he says are in poor health.
'This is not a suicide'
Zapata Tamayo's death — the first by a hunger striker in Cuba in nearly 40 years — led Spain's socialist prime minister to call for the release of all Cuban "prisoners of conscience." Secretary of State Hillary Rodham Clinton said the U.S. government was "deeply distressed."
Farinas wore white pajamas and moved slowly and deliberately Friday, an aluminum walking stick by his side. He removed his shirt to reveal a rail-thin frame and stomach dotted with scars where the government force-fed him during past hunger strikes.
"This is the only way I have to protest against the Cuban government and to show they are villains," he said when asked why he has resorted to refusing to eat or drink so often. "What other option have I got?"
Seated on a wicker-backed couch, with a photo of himself beaming as a baby nearby, Farinas looked reasonably strong. He acknowledged feeling better since doctors inserted an IV in his neck and gave him eight liters of fluids and nutrients — but said the hunger strike has left him weak, with flulike symptoms, a burning throat and back pain.
"This is not a suicide, because I'm asking for something logical. I'm not asking that they give me power," he said. "I'm not asking that Raul (Castro) leave the country on a plane. I'm only asking that they free 26 prisoners who even the state doctors have determined are in no condition to be in jail."
Farinas lives in Santa Clara, a central Cuban city famous for its towering statue of Che Guevara and a mausoleum holding his remains.
Farinas said he takes calls daily from European embassies in Havana, as well as the U.S. Interests Section, which Washington keeps on the island because it has no diplomatic relations with Cuba.
Hunger strikes present challenges for authorities in any country since force-feeding can be a human rights violation. At the U.S. Naval Base at Guantanamo, for instance, more than 130 terror suspects have refused meals at different times. In some cases, that has prompted officials to put inmates into a restraint chair and insert feeding tubes into their noses, forcing them to take milky nutritional supplements, mixed with water and olive oil.
Members of Cuba's opposition community vowed to seize the moment of international outrage over Zapata Tamayo's death to press for change on the island, which has tolerated little dissent since Fidel Castro's 1959 revolution ousted dictator Fulgencio Batista.
Farinas said he was convinced the Cuban government would let him die this time. Given the economic crisis on the island, he said, the government cannot afford to appear weak by giving into his demands. He said he is not willing to call off the strike because he thinks his comrades in jail will die if not released.
"They (the government) don't have the luxury of giving up, and I don't either," he said.
Copyright 2018 The Associated Press. All rights reserved. This material may not be published, broadcast, rewritten or redistributed. We strive to uphold our values for every story published.