Topeka — As the budget crisis intensified Friday, Senate Republican leaders said they will push for a $300 million tax increase and Gov. Mark Parkinson sharply criticized the Legislature for going on a 20-year "tax-cutting binge" for businesses and the wealthy.
Meanwhile, Parkinson applied an $85 million Band-aid to balance the state's current fiscal year budget. Officials face another $467 million revenue shortfall in the budget year that starts July 1. Last year, they cut nearly $1 billion from a $6.4 billion overall state budget as Kansas fell into the national recession.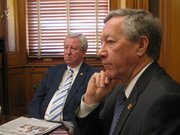 But in announcing his budget changes, Parkinson said it wasn't only the recession that was the root of the state's budget collapse.
He blamed the Legislature for decimating the tax base through tax cuts given to the rich and special interests over the past two decades. He named the elimination of the corporate franchise tax, estate tax and the property tax on business and machinery as examples of bad tax policy.
"What have we done for the average person? Virtually nothing," Parkinson said. "The public has got to understand, they are being left out," he said.
Parkinson, a Democrat, said he didn't expect the Legislature to undo any of its past tax decisions, so he reiterated his call for a temporary 1-cent increase in the state sales tax to help address the looming budget shortfall.
The Kansas Chamber, which has successfully lobbied for many of the business tax breaks that Parkinson criticized, issued a news release blasting the governor.
"The governor's refusal to admit that runaway state spending is the true culprit of our budget crisis is as unconscionable as it is ridiculous," Kansas Chamber Board President Mike Maddox said.
Maddox said a tax increase will hurt Kansas families and cause businesses to go to other states. "Raising taxes in a down economy will only further jeopardize Kansas jobs," he said.
Earlier in the day, Senate President Steve Morris, R-Hugoton, and Vice President John Vratil, R-Leawood, said they support a $300 million tax increase.
But they said they weren't sure how to get there. Morris said increases in the tax on cigarettes, alcohol, the removal of sales tax exemptions and an increase in the state's 5.3 percent sales tax were all under consideration.
Morris said $300 million more in tax revenue, combined with some expected increases in federal funding may close the budget gap. He called on Kansas' U.S. Sens. Pat Roberts and Sam Brownback, who are both Republicans, to support in Congress continuing an increased match of federal dollars for the Medicaid program.
"I support getting us to $300 million in new revenue. The bottom line is we have to balance the budget," Morris said.
Morris also said Parkinson's proposed increases in the next fiscal year for public schools and higher education are probably not doable in the current budget mess.
Democrats, who are in the minority in the House and Senate, said they were willing to consider plans from the Senate Republicans. "Everything is on the table," House Democratic Leader Paul Davis of Lawrence said.
He and Senate Democratic Leader Anthony Hensley of Topeka said other tax increase proposals include adding a new bracket or surcharge for high earners under the state income tax.
"I'm interested in any and all options," Hensley said.
But House Republican leaders have been opposed to tax increases. Earlier this week, O'Neal said the drop in tax revenue shows that taxpayers are hurting and they don't need the burden of increased taxes.
Parkinson's cricitism of Kansas tax policy came as he released budget changes to address a growing shortfall in the current budget cycle.
The governor proposed canceling highway maintenance projects, suspending a payment into a disability fund for state employees and passage of a tougher seat belt law to attract more federal dollars.
Many of the proposals will require legislative approval. After being briefed by Parkinson, legislative leaders praised him for being pro-active.
Copyright 2018 The Lawrence Journal-World. All rights reserved. This material may not be published, broadcast, rewritten or redistributed. We strive to uphold our values for every story published.