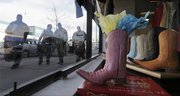 New York — Shoppers returned to the nation's malls last month, buying a surprising amount of spring clothing and other items and helping stores post the strongest retail sales since November 2007, a month before the recession began.
The better-than-expected 3.7 percent gain reported Thursday showed that Americans are still thrifty, but they are letting go of some of the frugality brought on by the economic downturn.
Consumers "are now starting to go back to where they had typically shopped" before the recession, said Michael Niemira, chief economist at the International Council of Shopping Centers, who expected a 2 percent gain. "I'm surprised by the broad strength."
But, he added, there's still uncertainty about whether such a robust pace can be sustained, particularly later this year when the sales figures are compared with more stabilized spending patterns.
The February sales report was the third consecutive monthly increase, according to the ICSC. The monthly index excludes Wal-Mart Stores Inc., which stopped reporting monthly sales last year.
Shoppers shrugged off snowstorms and worries about the economy to visit a broad array of merchants, from luxury retailer Nordstrom to middlebrow Macy's Inc. to discounter Target Corp., which all reported solid sales increases that beat Wall Street analysts' estimates.
The figures are based on sales at stores open at least a year and are considered a key indicator of a retailer's health.
Stores in malls, which had seen sales plunge as their customers traded down to cheaper options, are starting to bring shoppers back by offering lower-priced or exclusive items. Saks Fifth Avenue, for example, is expanding its exclusive merchandise offerings, putting more emphasis on lower prices and expanding its discount Off Fifth chain.
Selia Black, 26, was at the Manhattan Mall in New York on Thursday to find a birthday gift for her sister. She splurged on a $178 jacket at full price at Bebe. A year ago, she would have been scouring for a present that was deeply discounted, she said.
"I'm easing up a little bit, but not totally," said the Brooklyn woman. She does not work, but her husband is a security guard.
Dennis Jacobe, chief economist at Gallup, believes shoppers' thriftiness may have thawed a bit, as shoppers who have jobs are buying a little more. But, he said, frugality has not gone away, based on Gallup's polls.
"We are in a new normal of spending," he said. He cited Gallup surveys taken Feb. 1 to Feb. 3 in which 57 percent of consumers polled said they are spending less. One-third of those surveyed said curtailed spending will be their normal pattern.
Another factor that helped the monthly sales figures look so strong was that February 2009 figures were so awful. Jacobe says spending levels are still well below 2008.
Copyright 2018 The Associated Press. All rights reserved. This material may not be published, broadcast, rewritten or redistributed. We strive to uphold our values for every story published.