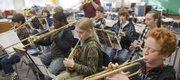 With a $4 million budget deficit growing to $5 million, the likelihood of school closings seems to be increasing.
-->
Rally planned
Members of Save Our Neighborhood Schools plan to have a "Squeaky Wheel Rally" at noon Saturday at South Park, in the 1100 block of Massachusetts Street.
Group members say the Lawrence school board can make budget cuts without closing elementary schools as the district tries to close its $5 million budget gap.
Lawrence school board members plan to at least ask about the willingness for teachers to take pay cuts for next year's contract.
But the idea has not gained much traction among board members as the district grapples with cutting $5 million before next school year.
"Not only is it a hard, slow process, even if it were to be successful, I personally don't support it because of what we're going to be asking teachers to do to make all the other cuts work," said Scott Morgan, the board's president.
Because of the state's budget crisis, board members at their Monday meeting will try to reach a consensus on several budget cut options — including cutting teaching jobs to create larger classes and even closing elementary schools.
But personnel costs make up about 85 percent of the district's budget.
It would take a 6 percent pay cut among all administrators, teachers and classified staff members to save $4 million. Board members are considering $100,000 worth of furlough days for administrators as part of a $3 million list of administrative and school program cuts.
Because the school board negotiates a contract each year with the Lawrence Education Association, the district cannot unilaterally change teacher pay.
The two sides reach an agreement on how much the district will add to its salary scale. Last year the district agreed to add $523,000 to the salary scale.
It would take an 8.5 percent pay cut to save $4 million among the district's approximately 950 certified employees — mostly classroom teachers but also counselors, social workers and other certified positions, according to district figures.
A first-year teacher with a bachelor's degree and no extra degree hours makes $34,430, and a teacher with a doctorate and 14 years in the district makes $58,830, according to the salary schedule.
District administrators have not recommended teacher pay cuts as an option for board members.
Lawrence Education Association president Valerie Johnson-Powell said school board negotiators have asked to talk about salaries as part of this year's negotiations, but the board's letter asked only for the board to have "flexibility" as it deals with the current budget crisis.
She said the two sides will begin discussing issues on March 31 and that the teachers did make some concessions last year.
"We took last year a major hit on our health insurance," Johnson-Powell said.
Morgan is not on the board's negotiating team, but he does not support asking teachers to take a pay cut because they could end up teaching larger classes anyway.
He also said board members likely haven't pursued teacher pay cuts because the negotiations likely won't finish before the district's May 1 deadline to be able to reduce its teaching positions. Then the district would have less flexibility to make other budget cuts if pay cut negotiations fell through, Morgan said.
Copyright 2018 The Lawrence Journal-World. All rights reserved. This material may not be published, broadcast, rewritten or redistributed. We strive to uphold our values for every story published.