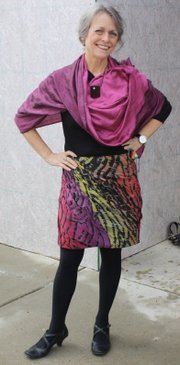 Saralyn Reece Hardy
Age: 57.
Sign: Aries.
Time in Lawrence: About 5 years.
Hometown: Scandia and Salina.
Occupation: Director of the Spencer Museum of Art, Kansas University.
What were you doing when scouted: Discussing how Kim Jongku's work embraces the forces of nature. He's here from Korea as part of the International Artist in Residence Program.
How would you describe your style: Spontaneous.
Who are your fashion influences: I think my mother has been the most important aesthetic influence in my life. From flower arranging to scarves, she has an eye for beauty. In some way, designers and artists have always influenced the way I think about the world in general because they look beyond the surface. I'm more interested in fashion that has to do with an abiding set of interests than about a trend.
What are your favorite fashion trends: I like looking at art and experience as if the past and present are merged into one moment, which indicates a belief in both influences: the past and the possibilities of now. The people whose style I admire the most are the ones who are dedicated their entire lives to being exactly who they are.
What are your least favorite fashion trends: I'm not that conscious of fashion. I'm very conscious of innovative function rather than a heavy dose of polish.
What would you like to see more of in Lawrence: I'd like to see another grocery store downtown. I'd also like to see more inter-generational experimentation whereby the energy, enthusiasm and tech savvy of young people work in concert with older generations to solve the world's current complex problems. I think it'll take all of us working together. The sense of possibility is a very critical factor in reshaping the institutions of the 21st century. I believe in individuals of all ages.
What would you like to see less of in Lawrence: Less tension between pedestrians, cyclists and motorists. Therefore, I'd like to see more forms of green transportation.
People say I look like: Lots of people say I have a familiar looking face. ... But most people in Lawrence say I look like my sister Deanelle Tacha.
What are you most looking forward to for spring: Walking to work, walking in general and the way the earth smells in spring.
Tell us a secret: I was once the Sugarplum Fairy. And I once had a conversation through mail with the playwright Arthur Miller.
Shirt: Purchased at Spectators one year ago.
Skirt: Christmas present from my mother. I love that it has the feeling of feathers or butterfly wings. It's fleeting, not static.
Tights: Purchased at Weavers this fall.
Scarf: Purchased in Venice 10 years ago.
Shoes: Purchased in Washington when I lived there about ten years ago. I just had them re-soled at BKB Leather. They're a little scruffy, but that's my style.
Necklace: Designed and handmade by my son, Thomas, for a Christmas present.
Watch: Purchased at the MOMA two years ago. I'm often the timekeeper at meetings.
Earrings: Purchased at the Spencer gift shop three years ago.
Pin: A gift from the artist and philosopher K.T. Walsh.
Rings: Four rings engraved with the years 1976, 1977, 1980 and 1985.
Copyright 2018 The Lawrence Journal-World. All rights reserved. This material may not be published, broadcast, rewritten or redistributed. We strive to uphold our values for every story published.