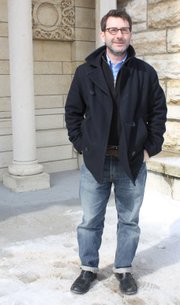 Jordan Yochim
Age: 45.
Sign: Taurus.
Time in Lawrence: 44 years.
Hometown: Lawrence.
Occupation: Museum research administrator at the Natural History Museum.
What were you doing when scouted: Getting a breath of air.
How would you describe your style: Classic with an edge.
Who are your fashion influences: I tend to gravitate in terms of style towards men of a certain character throughout history. A sort of more joyous and outgoing character. I like the styles that one could classify as classic lines on men. I don't go for a lot of ornamentation. I tend to think that compensates for a lack of personality at least in men.
What are your favorite fashion trends: I wish hats would come back for men, especially the fedora. I look for a sense of grace in whatever is being worn. That can take so many different forms. It's not so much one thing but how it's worn.
What are your least favorite fashion trends: I had a pair of vertically striped red, white and blue bell-bottoms when I was a kid, courtesy of my mom. Since then, I've shunned striped pants, even pinstripes.
What would you like to see more of in Lawrence: Care. I feel like the current trend is slovenly. I'd like to see more people take a little more care of themselves. When they don't, it hides the grace and charm people have and makes interactions less graceful and charming. It's a give and take between how we look and what we are.
What would you like to see less of in Lawrence: Snow. No, not really. Lawrence has a very good vibe.
People say I look like: I get Dustin Hoffman a lot when I have different glasses on. When I had a goatee, someone said Brad Pitt, but I think she was referring mainly to the goatee. I also occasionally get Gabriel Byrne.
What are you most looking forward to for spring: You see bright coats for winter, but it'll be nice to see patterns and colors come back out that aren't designed to signify your presence in an avalanche.
Tell us a secret: I'm an international jewel thief, but only on weekends.
Coat: Purchased at Old Navy five years ago.
Shirt: Purchased at Gap two years ago.
Sweater: Gift received years ago.
Jeans: Levi's, purchased at Kohl's two years ago.
Boots: Timberland, purchased online three months ago.
Copyright 2018 The Lawrence Journal-World. All rights reserved. This material may not be published, broadcast, rewritten or redistributed. We strive to uphold our values for every story published.