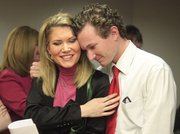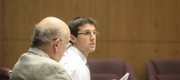 More coverage of the trial of a former Kansas University student accused of beating and kidnapping his ex-girlfriend.
Francie Biggs stood up and made sure her voice was heard during Thursday's sentencing of her ex-boyfriend Matthew Jaeger.
And the outcome was not just a victory for her, but she believes that it should serve as a victory for battered women everywhere.
"I ask that the penalty be as profound, as personal and as punishing as the crime he committed against me," Biggs, 24, said in a tearful plea to Judge Robert Fairchild.
Jaeger, also 24, was convicted by a jury in August of kidnapping, aggravated battery and making a criminal threat, stemming from an attack on Biggs at her apartment in October 2007, that resulted in brutal injuries to her vaginal area.
Fairchild listened to more than three hours of arguments and testimony from members of both the defendant's and victim's families before handing down a penalty close to the maximum sentence.
Fairchild sentenced Jaeger to a total of 106 months, running all three sentences consecutively.
"There's nothing I can do to undo what was done," Fairchild said.
The punishment was just five months short of the maximum sentence requested by Assistant Attorney General Jason Hart.
Hart asked the judge to consider several aggravating factors, including the excessive brutality of the crime and the fact that the victim, who was choked to the point of unconsciousness, was incapable of defending herself against Jaeger.
"He doesn't fight clean," Hart said. "He fights girls, and we absolutely know that he hits below the belt."
Defense attorney Pedro Irigonegaray was seeking a lighter sentence, filing a motion asking for a departure from the state sentencing guidelines.
Irigonegaray called a number of witnesses, including Jaeger's psychologist, the undersheriff at the Douglas County Jail and the probation officer who handled Jaeger's supervision while out on bond to show Jaeger has been an exemplary inmate while in custody and followed all requirements out on bond.

"The person I'd heard about and read about was not the same young man," clinical psychologist Kathie Nichols testified of her impressions of Jaeger, saying he was taking his drug and alcohol treatment very seriously and looking ahead to finishing college.
Fairchild denied Irigonegaray's motion, then listened to pleas from Jaeger's relatives.
One after the other took the podium, painting a very different picture of the defendant.
"I know from the bottom of my heart he would never intentionally hurt Francie," Matt's mom, Ann Jaeger, told the judge. "Treat him with mercy and leniency so he can continue to rebuild his life."
Jaeger's two sisters described their younger brother as a fun-loving uncle who played the guitar to their children and would help anyone in need.
And Jaeger himself addressed the judge, continuing to maintain his innocence.
"Francie was injured before I went into her apartment," he said, reading from a prepared statement. "I'm left with many unanswered questions. I don't want to blame the jury, but sometimes a jury makes a mistake. This jury made a mistake."
Following the sentence, the victim said she was relieved and hoped to put the horrible incident behind her. She said she hoped her case would give other victims of domestic abuse the courage to come forward.
"It felt so good to stand up and be heard," Biggs said. "I say to women who are trapped in that situation now, you can be heard. I was heard and I won, and they can win, too."
Copyright 2018 The Lawrence Journal-World. All rights reserved. This material may not be published, broadcast, rewritten or redistributed. We strive to uphold our values for every story published.