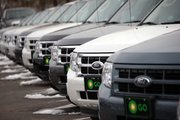 Detroit — Automakers plowed through a snowy February to better-than-expected sales, and new incentives led by beleaguered Toyota will keep the momentum going into spring.
Despite some analysts' predictions of single-digit gains, sales rose 13 percent over last February and all major automakers but Toyota Motor Corp. reported higher U.S. sales. Most took customers from the Japanese automaker, which has been struggling with a series of massive safety recalls. Toyota's U.S. market share fell to 12.8 percent, its lowest level since July 2005, according to Ward's AutoInfoBank.
To win back sales, Toyota said it will offer zero-percent financing on most models this month plus two years of free maintenance to returning customers. General Motors Co. and Chrysler LLC matched the financing deals.
Toyota's U.S. sales fell 9 percent last month, besting some analysts' predictions that its sales would fall by double digits. Meanwhile Ford, GM, Nissan, Honda, Hyundai and BMW all reported double-digit growth compared with February 2009, at the depth of the recession. The gains might have been even higher without the blizzards that paralyzed the East Coast.
Ford's sales shot up 43 percent and the automaker outsold GM for the first time since August 1998, when GM was in the midst of a strike. Ford's gains were led by cars, which rose 54 percent, with sales of the midsize Fusion, a Toyota Camry rival, more than doubling. Those results included Volvo, which Ford is preparing to sell.
Other winners included Kia Motors Corp. and Subaru. Even struggling Chrysler saw a slight increase in sales.
February was the first full month since Toyota suspended sales of eight popular models on Jan. 26. Toyota Vice President Bob Carter said Tuesday that almost all of those vehicle have been repaired and are now on sale. Toyota also has announced temporary production cuts at two U.S. plants.
Carter estimated the sales suspension cost the automaker 18,000 sales in February. Media coverage of the safety lapses also has taken a toll. Toyota officials and federal regulators appeared before House lawmakers last week and were testifying before the Senate Commerce Committee Tuesday.
Carter said Toyota saw very few of its customers defecting to other brands in February, but it did see a drop in new buyers. Meanwhile other automakers said they were seeing increased business because of Toyota's pain.
Most carmakers offered deals to Toyota customers in February. According to the automotive Web site Edmunds.com, incentive spending rose 11 percent from January to $2,588 per vehicle. Toyota's incentive spending rose 26 percent, to $1,833 per vehicle. That was the fourth-highest monthly incentive total for Toyota since Edmunds began tracking data in 2002.
Copyright 2017 The Associated Press. All rights reserved. This material may not be published, broadcast, rewritten or redistributed. We strive to uphold our values for every story published.