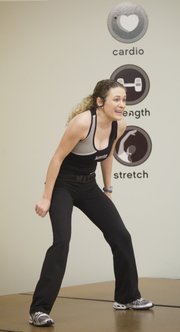 If getting older is about knowing how to be comfortable in your own skin, Jazzercise is right where it should be.
The dance fitness program turned 40 this year, gracefully, having transformed long ago from its oft-parodied youth of leg warmers, bare feet and headbands into a hip mixture of yoga pants, Pilates and contemporary music.
Want proof? Head to one of Amy Sand's classes at Lawrence Jazzercise, 3115 W. Sixth St. There, fitness fans of all shapes and sizes work up a sweat using constant movement, resistance bands, weights and exercise balls, all to the same tunes you'd hear at the broadcast from 105.9 The Lazer, the radio station across the way.
"I've done a lot of different fitness programs in my life, and there's a reason Jazzercise has been around for 40 years," Sand says. "A lot of people still see us in tights and leg warmers, like the '80s, doing funny kind of dance moves, and Jazzercise is really evolved past that."
Indeed, today's Jazzercise classes incorporate popular trends in fitness — from kick-boxing to yoga to Pilates. Members can chose from straight Jazzercise classes to muscle-building circuit classes to Jazzercise "lite," which features slower, lower-impact moves.
"Although we're similar to traditional aerobics class, we use a lot of current music. It's real dancy and fun," Sand says. "Each class is about an hour — 35 minutes of cardio and then about 25 minutes of strength training (and) stretching."
Jennifer Colaner, owner of the Lawrence studio, says about 200 people are members, with anywhere from 50 to 75 attending classes daily.
"We really have all types," says Colaner, who became an instructor after Jazzercising her way through college. "We have 18-year-olds, college students at KU, up to 70-year-old women."
Alice Clayton has been taking classes for 30 years and has witnessed the program's evolution.
"When I started at Jazzercise, we did the exercises barefoot and they don't do that anymore, and it's probably a good thing," Clayton says. "We wore the tights and the leotards and the leg warmers and all that wonderful stuff."
Clayton started with the program because she loved to dance and has stuck with it because it's more than just a workout, it's a social outlet — and it never gets old.
"I've tried different exercise programs throughout the years, but this is the one that I always come back to. I love the movements and I love the camaraderie that develops with the women," Clayton says. "I've been doing it for 30 years, and I never get tired of it. So, it has to stay fresh for someone to stick to it that long."
Copyright 2018 The Lawrence Journal-World. All rights reserved. This material may not be published, broadcast, rewritten or redistributed. We strive to uphold our values for every story published.