Memo to beach bums: get ready to pump it and spray it, and don't apply it in the wind. Sunscreens that guard against ultraviolet A and ultraviolet B radiation can help prevent sunburn, wrinkles, and certain skin cancers.
Consumer Reports' tests of 12 products found four that protect a shade better than the rest: Up & Up Sport Continuous SPF 30 (Target), a CR Best Buy at $0.88 per ounce; Walgreens Sport Continuous SPF 50; Banana Boat Sport Performance Continuous SPF 30; and Aveeno Continuous Protection SPF 50. These products provided Very Good UVA protection and Excellent UVB protection and met their SPF claim even after treated skin was soaked in water for 80 minutes.
UVA and UVB can both cause sunburn, skin damage, and certain skin cancers. UVA can also cause wrinkles. There's no protection factor for UVA radiation on labels, though the Food and Drug Administration has proposed a system of one to four stars. SPF is a measure of UVB sun protection on skin treated with sunscreen; put simply, if your skin normally turns red in 10 minutes, then an SPF of 30 could lengthen that time to 300 minutes.
The bottom line: Buy sunscreen with an SPF of at least 30 (plenty for most people) that claims to be water-resistant.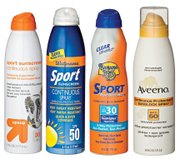 Best ways to keep the bugs at bay
A good repellent can help you enjoy the outdoors without the company of mosquitoes and ticks. At an outside lab, brave testers bared their arms in mosquito-filled cages and let ticks crawl on them. CR recorded how long it took for mosquitoes to start biting and for ticks to crawl over treated areas.
In the laboratory setting, the bugs were free of disease. But wild mosquitoes in the U.S. can carry West Nile virus or St. Louis encephalitis. Travelers outside the United States might encounter mosquitoes carrying malaria, yellow fever or dengue fever. Ticks can spread Lyme disease, human babesiosis and Rocky Mountain spotted fever.
Ten insect repellents were tested. The six top choices, all earning a Recommended Rating from CR, worked for at least seven hours: Off! Deep Woods Sportsmen II, Cutter Backwoods Unscented, Off!, Off FamilyCare Smooth & Dry, 3M Ultrathon Insect Repellent 8, Repel Plant Based Lemon Eucalyptus and Natrapel 8-hour with picaridin.
The first four contain deet, a pesticide, in varying levels. The Environmental Protection Agency judges deet safe when used as directed, but it has caused rare toxic reactions when misused. It shouldn't be applied to infants less than 2 months old. The American Academy of Pediatrics advises against using repellents with deet concentrations higher than 30 percent on any children. Consumer Reports thinks that no one needs a repellent with more than 30 percent deet.
The six top choices worked for at least seven hours, though they feel and smell somewhat different. Cutter Backwoods leaves little scent or sensation; Off Deep Woods has a citrusy odor and filmy residue panelists wanted to wash off; Off FamilyCare has a fruity odor and dries quickly; 3M Ultrathon has a strong odor and leaves an oily feeling on the skin at first; Repel has a plastic beach-ball and citrusy odor and left little residue; Natrapel has a floral odor and is a little greasy.
When applying any repellent, follow directions. Use your hands to apply it to your face, avoiding your eyes and mouth, and don't apply it to cuts. Use just enough to cover exposed skin. Some directions suggest using it on clothes, but most tested repellents damaged leather and vinyl, and some of them stained synthetic fabrics. Wash repellent off your skin and launder treated clothes.
The bottom line: Most of the tested products will do the job if you're going to be outside for only a couple of hours, but look for a highly rated product to protect you on longer excursions.
Copyright 2018 The Lawrence Journal-World. All rights reserved. This material may not be published, broadcast, rewritten or redistributed. We strive to uphold our values for every story published.