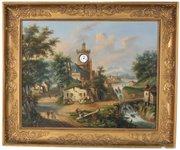 One of the more unusual clock styles made in the 19th century is the picture clock. It is a clever novelty, and a few modern versions are being made by Swiss clock companies. An artist paints a village scene or seacoast town that includes a tower or church. The oil painting can show people working or resting and enjoying the view. A pocket watch movement is put in as the church steeple's or tower's clock. Each "clock" had to be wound every day, so the picture frame was hinged to allow it to swing forward and expose the back of the clock. Sometimes the picture also included figures with arms or legs that moved. This type of antique clock was most often made in France in the late 18th or early 19th century. Guests may be startled if they notice the painting on the wall has a clock that always seems to show the correct time. An 1850 French picture clock sold recently at Fairfield Auctions in Connecticut for $1,700.
Before my mother died in 1980, I had asked her to leave me just one thing — an antique revolving bookcase one of her cousins had given her. It's a tall Arts and Crafts oak bookcase that rotates on a round base. The label on it says, "Manufactured by Sargent Mfg. Co., Muskegon, Mich., and New York, N.Y., pat'd Jan 23-83." Please tell me when you think it was made.
Sargent Manufacturing Co. was founded in Muskegon in 1889 and was in business until about 1905. The company had a New York branch in the early 1900s. Sargent made desks, stands, wardrobes and bookcases in Victorian Golden Oak styles and later in the Arts & Crafts style. Your bookcase most likely dates from the early 1900s. The earlier patent date probably relates to its revolving mechanism.
Q: I'm wondering if my paper Chicago World's Fair umbrella is special. I have it displayed in my home and enjoy it, but I'm told it should be put away and saved. Any thoughts?
A: Enjoy your special collectible. It is not so valuable that it should be put away. The Chicago World's Fair originally ran from May to November 1933. It reopened in May 1934 and ran until October that year. The theme of the fair, "Century of Progress," marked the centennial of the founding of Chicago. The motto of the fair was "Science Finds, Industry Applies, Man Conforms." Umbrellas like yours show up at sales and auctions occasionally and sell for around $30 to $45.
Q: I just went to a garage sale and found three cast-iron toys that are replicas of very old Case farm equipment. I bought a steam tractor, a threshing machine and a water wagon. They have almost perfect original paint. How much are they worth?
A: There were a number of companies making models like this in the 1970s, although they represent machinery used in the late 1800s and early 1900s. The almost perfect condition suggests a 1970s rather than an 1890s origin. Value of each: under $50.
Q: I own an original official Winter Olympics poster from the 1972 games in Sapporo, Japan. It's still in the heavy cardboard tube sent to me from Japan, so it's in pristine condition. What is it worth?
A: There are collectors who specialize in Olympic memorabilia. Official posters for the Olympics have been commissioned since the 1912 Games in Stockholm, Sweden. The official 1972 poster for the XI Winter Games has a background in shades of blue with Japan's red sun symbol at the top, the Olympic rings in the center and a stylized mountain at the bottom. It was designed by Takashi Kono and printed by Tappan Printing Co. The poster was made using offset printing. A genuine original sells today for about $75. Lithographed originals from early 20th-century Games sell for a lot more.
Q: Years ago, the high school where I taught was discarding stuff stored in the school's attic. I took home a small oak cabinet with 12 small drawers. Inside the drawers I found 50 glass photographic slides, each with a label. They include pictures of Niagara Falls, settlers traveling West and coal miners in Scranton, Pa. A plate on the cabinet says, "Keystone View Co., Meadville, Pa." Please tell me something about the cabinet.
A: The Keystone View Co. of Meadville was founded by B.L. Singley in 1892. The company was sold in 1963 and closed about a decade later. Keystone was a major distributor of stereographic (3-D) images for families and schools -- from high schools to medical schools. The company also manufactured magic lanterns (the forerunners of slide projectors), stereoscopes, projectors and cabinets. A cabinet like yours sold a few years ago for $300.
Q: I have an upright piano dated 1878 in the keyboard lid. It's also marked, "Made in Germany, completed in Liverpool, England, William H. & G.H. Dreaper, patent 5128." Can you tell me more? And is it collectible?
A: William and G.H. Dreaper's piano business was located at 96 Bold St. in Liverpool from 1828 to 1902. Dreaper made some beautiful pianos, but the value of a piano depends more on its sound than its beauty.
Tip: All Pyrex, old or new, is safe to use in the microwave.
Current prices
Current prices are recorded from antiques shows, flea markets, sales and auctions throughout the United States. Prices vary in different locations because of local economic conditions.
1939 New York World's Fair potholder, cotton terrycloth, yellow ground, green Trylon and red Perisphere, green binding, 6 1/2 inches, $15.
Advertising pocket mirror, Hobo Kidney & Bladder Remedy, celluloid, image of boxed bottle, orange ground, Parisian Novelty Co., Chicago, 2 inches, $60.
Plush Pluto toy, velveteen, leather collar, printed design on paws and face, mouth opens to expose tongue and teeth, Dean's Rag Book Co., 1930s, 12 x 5 inches, $285.
Seth Thomas No. 1 banjo clock, spring driven, reverse painting of Lake Erie and Perry's Victory scenes, throat tablet with shield and eagle, brass eagle finial, 37 inches, $450.
Elvis Presley Tender Pink lipstick, "Keep Me Always on Your Lips," metal tube, on card, Elvis Presley Enterprises, 1956, 3 3/8 x 4 3/4 inches, $505.
Captain Marvel child's sweatshirt, image of Captain Marvel throwing a fighter plane, Spring Needle Knit Quality Fabric, 1945, size 8, $690.
Steven & Williams glass vase, mother-of-pearl, Pompeian Swirl pattern, reverse amberina, 6 3/4 inches, $745
Mt. Joye cameo glass vase, textured green, metal overlay, oak tree and acorn design, signed, c. 1900, 5 x 15 inches, $800.
Classical coin silver sugar and creamer, paneled, vase form, die-rolled banding, bird handles, Abraham G. Storm, New York, c. 1810, 8 1/4 inches, $1,195
Quilt, stitched and pieced, cream ground, rows of squares, blue diamond border, flowers, leaves and feathered wreath design, New England, 19th century, 75 x 87 inches, $9,440.
Copyright 2018 The Lawrence Journal-World. All rights reserved. This material may not be published, broadcast, rewritten or redistributed. We strive to uphold our values for every story published.