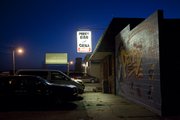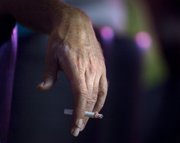 Perry — Pickups, mini-vans — even a school bus with curtains — park right next to the railroad tracks that run along this small town's Front Street.
Hanging from a mish-mash of a building, a business sign from a different era alerts motorists to what everybody who is anybody already knew: They've arrived at the Perry Bar & Grill.
The sign also advertises that the joint sells Coca Cola — which is kind of like announcing Martin Van Buren was the eighth president of the United States. It's true, but nobody really cares.
These days, the more fitting sign hangs from behind the bar, which has survived the Great Depression, the 1951 flood and countless pounds of grown men leaning, slumping and lying upon it.
The sign — over a bit from one advertising both pickled eggs and candy bars for 75 cents — reads:
Price List
Answers: $10
Answers Requiring Thought: $20
Answers Correct: $50
Dumb Looks: Still free
These days, dumb looks also are plentiful here. Come July 1, this small-town bar and every other one like it in Kansas will become smoke-free. And the patrons of the Perry Bar & Grill are not embarrassed to admit that this idea of a statewide smoking ban has left them confused.
"Everybody knows when you go to a bar," said Steven Ernst from his stool at the end rail, "you're going to drink, you're going to smoke and you're going to get stupid. It is just nature."
• • •
Evidently, for the last six years nature has taken a back seat in Lawrence. That's how long Lawrence has had an ordinance that bans smoking inside bars, restaurants and pretty much every other public workplace in the city.
Whether that means going to a Lawrence bar sans cigarette has become second-nature is still an open question. It depends on whom you ask.
"I think it has gotten to the point that people sort of accept it as normal," said Dave Kingsley, a Kansas University Medical School professor and former chair of the mayoral task force that studied Lawrence's ban. "From what I see, people are very happy with it. It doesn't appear to have hurt the businesses really. I have nothing but good feelings about it."
Jerry Neverve, owner of the Red Lyon Tavern, 944 Mass., and a longtime ban opponent, can think of a few people who would disagree. He says the after-work bar crowd has nearly evaporated as smokers skip the bars and pick up a bottle on the way home.
But there are others who may miss the old days even more.
"We used to employ 15 people, and now we employ nine," Neverve said. "That's one of the first things we had to do."
• • •
Even after a half-dozen years, the issue in Lawrence remains clouded by emotion, with neither side all that willing to concede a point to the other.
Perhaps numbers can clear it up.
The numbers most often used to determine the economic impact of the smoking ban are drink tax numbers. Bars and restaurants charge a 10 percent tax on all liquor sales. The city gets a portion of the tax and produces annual reports on collections.
At a glance, it appears Lawrence's hospitality industry has done OK. In 2003, the last full year without the ban, the city collected $1.55 million in drink taxes. In 2009, with the ban firmly in place, the totals had grown to $1.84 million. Collections per establishment also rose, from about $13,000 in 2003 to about $15,000 in 2009. Those aren't the type of numbers for an industry devastated.
But a deeper look shows the industry has slowed since the ban. From 1999 to 2003, drink tax numbers grew by 24.4 percent. After the ban, from 2005 to 2009, the growth rate slowed to 16 percent.
Maybe that is just a sign of a slowing economy. To check that, drink tax numbers were compared to overall sales tax growth in Lawrence. In each year from 1999 to 2003, the drink tax grew faster than the sales tax. But from 2005 to 2009, the growth in sales tax outpaced the growth in drink tax every year but 2008 — the year of KU's NCAA championship and much merriment at local bars.
The two sides don't agree on what the numbers mean.
Dr. Steven Bruner, a Lawrence physician and ban supporter, said the post-ban numbers are skewed by lulls in 2005 and 2006 that were created by first-round losses by the Jayhawks in the NCAA tournament.
"The thing to draw from this is if you want to sell a lot of booze, don't lose in the first round," Bruner said.
Neverve believes the general economy has had an impact on the numbers, but he thinks it is disingenuous to say the ban hasn't hurt, too.
"These numbers show exactly what we were saying back at the beginning of the ban," Neverve said. "It would hurt business."
So much for numbers clearing this up.
But maybe we're not looking at the right number. When Bruner talks of the ban, he doesn't talk of dollars and cents. He points to studies that show the number of heart attacks decline in communities with smoking bans. A Lawrence study hasn't been conducted, but he said several U.S. and European studies have shown heart attacks have declined by 15 percent to 20 percent following bans.
"When the City Commission first passed this ban," Bruner said at a recent City Hall meeting, "I told the commission that I had been a family physician for 30 years and that with their vote they had the chance to save more lives in one night than I would in an entire career.
"Now with the state passing its ban, it turns out that was a wonderful understatement. You've saved many, many more."
To that, Neverve answers with his own broad argument.
"Anything you can do to improve health is a good idea, but this is still one of those personal freedom issues," Neverve said. "Tobacco is still legal."
• • •
When Steven Ernst — our friend at the end of the bar — thinks of numbers, seven comes to mind. That's how many cartons of cigarettes his parents smoked per week. It was a good number because it allowed a young Ernst to steal a couple of packs a week without anyone noticing.
"I became a very good smoker when I was 15," Ernst said.
He's 37 now, and sits next to two packs of cigarettes at the bar. Taverns across the state are full of men just like him.
"I would have never thought the day would come that you couldn't smoke in this place," said Rick Wilks, who has owned the bar for the last 16 years. "If the state wouldn't have stepped in, it never would have happened in Jefferson County. I guarantee you that."
Wilks isn't sure how much the smoking ban will hurt his business. But he is worried about the bar, which has been going in one form or another since 1928. He notes that Perry is much different from Lawrence. This bar relies on a relatively small group of regulars, not a constantly changing group of students.
Wilks is spending $3,500 to build a deck to try to keep some of the regulars happy. He's hoping that a few more families will come in for a burger and fries, now that smoke won't be an issue. And maybe, just maybe, this ban will cause a few people to drop the smoking habit.
Three-rail 8-ball shots were drawing more bets than that proposition.
"I know I need to quit smoking," said Paul Maline. "But this is just making me want to say, 'The hell with you.'"
So maybe the ban will hurt places like this. Kingsley, the KU researcher, isn't afraid to admit that. To him, the issue has never been about the customers who choose to frequent these places. It has been about the workers who have to go there day after day. And, no, he doesn't buy the argument that they could just choose to work somewhere else. He doesn't think it works that way, especially in this economy.
"It might hurt a smaller bar," Kingsley said. "But when you think of the whole public interest, that is really what we have to think about here. When it comes to the overall good of the public, we're doing the right thing."
Copyright 2018 The Lawrence Journal-World. All rights reserved. This material may not be published, broadcast, rewritten or redistributed. We strive to uphold our values for every story published.