Photo Gallery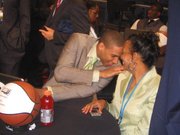 2010 NBA Draft
New York — For the past 12 months, former Kansas University basketball player Xavier Henry spent his days developing a strong friendship with teammate Cole Aldrich.
Thursday night, at the 2010 NBA Draft at Madison Square Garden in New York, the two Jayhawks were selected with back-to-back picks (Nos. 11 and 12 in the first round) and then shared a moment fit for brothers.
As Aldrich shot free throws on a pop-a-shot machine in the holdover room where the draft picks waited before talking to the media, Henry made his way up the ramp from the podium to the same room where Aldrich was waiting.
Initially ushered toward the interview room, Henry stopped at the curtain, turned back to his buddy and asked an NBA official if he could go say hey.
He did more than that. As the two exchanged a hug, Henry burst into tears, sobbing openly on Aldrich's shoulder as if letting out all of the anxiety and uncertainty of the draft process at once.
As the hug stretched into its second minute, Aldrich rubbed Henry's back, let out a little chuckle and said, "All the hard work paid off, man. This is a million-dollar kid, right here."
As it turns out, both are now millionaires.
As the No. 11 pick, Aldrich, who was drafted by New Orleans and traded to Oklahoma City almost immediately, will earn $1,772,100 during his rookie season.
Henry, picked 12th by Memphis while Aldrich was walking up to the media room, will make $1,683,500 during his first season.
Somehow, though, the money didn't seem to matter Thursday night.
"Cole, he's one of my best friends in the whole world and I've had fun with him over the summer and I've got to see him a lot," Henry said. "I'm happy for him, it's like a one-two punch from Kansas, 11 and 12."
Added Aldrich of hearing the news about his teammate while being interviewed by ESPN: "Xavier and I have become great friends. We always text each other and hang out. We always love just being around each other because we have a great friendship. He really looks up to me and I look up to him, too. It's really a special deal."
Also special on Thursday night was the moment Aldrich shared with his father, Walt, after hearing his name called shortly after 8:30 p.m. local time. Though not bound for the combo's dream destination — the hometown Minnesota Timberwolves — Thursday's outcome certainly was sufficient for the Bloomington boys.
"I'm very happy. It's incredible. That's pretty much all I can say," Walt Aldrich said. Asked how he felt about heading a little farther south than Lawrence for his son's next batch of games, Walt did not hesitate to answer.
"Very good," he said. "It's close enough for me. I already had a Kansas fan text me that Oklahoma City was Kansas South, so hopefully there will be a lot of Jayhawk fans down there."
Added an emotional Cole Aldrich: "I'm just so thankful for my parents. My parents and my family, just to be there for me; I've gone through so much, and you know, without them, I don't think we could be as strong as we are."
The next goal for Aldrich is to show that his strength extends to the basketball arenas of the NBA. Aldrich enters the league as a known commodity on defense and somewhat of a project on offense. Knowing what the scouting report says about him, Aldrich said he planned to keep working hard and to do what he's done throughout his playing career.
"I'm not going to try to go in and do spectacular things, only the things that I'm good at," Aldrich said. "I'm good at rebounding and defending and blocking shots and that's how I'm going to make my presence on the court (felt) early. I'm definitely going to work on my offensive game, too."
Aldrich said he has no plans for his first paycheck — "dinner, because I'll probably be hungry," he told reporters Wednesday — and that there were no NBA players that he couldn't wait to face. There was, however, one player that came to mind that nearly left him speechless.
"I think I'll probably be a little awe-struck whenever I step on the court with KG," Aldrich said of Boston Celtics veteran Kevin Garnett. "KG was a Minnesota guy, he plays with so much passion, he's a great guy who gives so much back to the community. He's a guy I kind of grew up looking up to."
As for Henry, he enters the league as more of a wild card. It has been well documented that he spent most of his time at KU trying to fit into the team mold instead of trying to be the star. Having Aldrich and senior Sherron Collins ahead of him dictated that. However, during the past few weeks, he's proven to be a completely different player, one who attacks the rim and tries to be the most tenacious player on the floor.
Henry said Thursday that he harbors no ill will about his role at Kansas.
"I think it helped me and I think it helped me in a different way than you think," Henry said of playing at KU. "It didn't boost me up, it put me back into a little role that I had to play with two All-Americans (Aldrich and Collins) on my team, and I think that helped me stay more humble rather than thinking that I had to get 25 (points) every night. And I learned from those players, it was good to step back."
As for what he hopes to bring to the Grizzlies, who were in need of a strong wing player, Henry's goal was clear.
"In the workouts, I set out to be the most aggressive player and that's what I did. I was always the most aggressive and most assertive and I made it a point to get to the hole and convert. That's why I knew I would do really well in the draft."
Aldrich and Henry became the fourth and fifth Jayhawks drafted in the first round of the NBA Draft since 2007. Julian Wright (13th by New Orleans in 2007), Brandon Rush (13th by Portland in 2008) and Darrell Arthur (27th by New Orleans in 2008) were the others.
As for KU's other draft hopeful from Thursday night, the NBA dream did not come true for Collins. At least not yet. Collins, who skipped the trip to New York and watched the draft with family in Chicago, was not one of the 60 players selected in Thursday's draft.
Though he was not selected by one of the league's 30 teams, Collins can still make a roster. In fact, not being drafted might end up being a good thing for him because now he can have some say and pick the team he'd like to try out for instead of being locked into a squad that might not have a place for him.
Most believed Collins would be a second-round pick so his absence from the draft board was somewhat surprising but certainly not shocking.
As expected, Kentucky freshman point guard John Wall went to the Washington Wizards as the overall No. 1 pick. Four more UK Wildcats were among the top 30 picks, making them the first school to ever put five players in the first round.
Ohio State's Evan Turner was selected second by Philadelphia. Georgia Tech's Derrick Favors went third to New Jersey.
Big 12 picks in Round One: Aldrich, Henry, Ekpe Udoh (No. 6, Golden State); Avery Bradley (No. 19, Boston); James Anderson (No. 20, San Antonio); Craig Brackins (No. 21, New Orleans); Damion James (No. 24, New Jersey). Three Big 12 players went in the second round: Dexter Pittman (No. 32, Miami); Tiny Gallon (No. 47, Milwaukee) and Willie Warren (No. 43, Los Angeles Clippers).
Copyright 2018 The Lawrence Journal-World. All rights reserved. This material may not be published, broadcast, rewritten or redistributed. We strive to uphold our values for every story published.