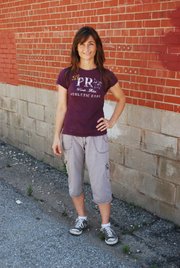 Age: 40.
Sign: Taurus.
Hometown: Lawrence.
Time in Lawrence: On and off for 39 years.
Occupation: Cook, server and barista at Aimee's Coffee House.
What were you doing when scouted? Working downtown at Aimee's.
How would you describe your style? Practical. I usually wear what's work-appropriate and kid-friendly.
What are your favorite fashion trends? Jeans and T-shirts — anything that's comfortable and livable.
What are your least favorite fashion trends? Everything from the '80s, particularly acid-wash jeans and neon colors.
What would you like to see more of in Lawrence? Things for kids to do and fun places to take them.
What would you like to see less of in Lawrence? Chain-link fences. They're so ugly!
Who are your fashion influences? If I notice something I like on people with a similar body type or build, I look for clothing with a similar style and fit.
People say I look like: My daughter, Veronica. I guess I should say she looks like me.
Tell us a secret: I may have started the grunge movement of '88. I went to high school in Seattle, and I would go to bed in a T-shirt, jeans and shoes — and flannel — so that I would be ready and out the door in less than a minute.
Pants: Mossimo, Target, 2007, $24.
Shirt: Borrowed from my daughter's closet this morning.
Shoes: Converse, Target, 2009, $29.
Copyright 2018 The Lawrence Journal-World. All rights reserved. This material may not be published, broadcast, rewritten or redistributed. We strive to uphold our values for every story published.