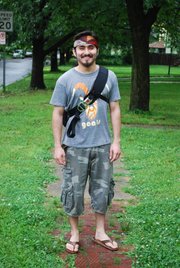 Age: 26.
Sign: Aries.
Hometown: Kansas City.
Time in Lawrence: since 2002.
Occupation: Biochemistry, neurobiology and philosophy student at Kansas University.
What were you doing when scouted? Walking to Burrito King after a rain storm.
How would you describe your style? Comfort, function and looks are the priorities. It has to meet all here, but if it doesn't function, there is no point in wearing it.
What are your current favorite fashion trends? Clothes that keep you cool in the summer and warm in the winter. People often wear too little or too much to show off, but it doesn't fit the season and temperature.
What are your least favorite fashion trends? Big bug-eye glasses on girls look dumb, especially if everyone in the group is wearing them. And really tight jeans on guys. Every time I see them walking down the street it gives me a suffocating feeling — you know what I mean?
What would you like to see more of in Lawrence? People who are vegetarians for health reasons that also don't smoke.
What would you like to see less of in Lawrence? Less people zoning out wearing iPods and not being a part of society, and less people thinking that they are too cool for school, literally. Everyone can learn more.
Do you have any fashion influences? My dad when he was my age, and (sportscaster) Craig Sager.
People say I look like: My brother, Yama, and my parents.
Tell us a secret: I cried at the end of "The Green Mile."
Shoes: Rainbow, 2008, gift.
Pants: 2009, gift.
Shirt: Kaw Valley Kickball, 2010, $12.
Scarf: Wildman Vintage, 2009, $4.
Bag: Chrome, 2010, $140.
Copyright 2018 The Lawrence Journal-World. All rights reserved. This material may not be published, broadcast, rewritten or redistributed. We strive to uphold our values for every story published.