Photo Gallery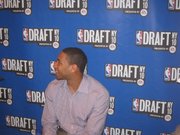 Scenes from the day before the NBA Draft
Former KU players participate in pre-event activities at the NBA Draft.
New York — It didn't take former Kansas University basketball standout Cole Aldrich long to realize the incredible situation he had gotten himself into on Wednesday.
Aldrich's wow moment from the NBA Draft experience hit him like a bucket of ice water.
"It probably came when I woke up and I didn't know where I was," Aldrich said during a 30-minute session with reporters at the Westin Hotel in Times Square. "Then I looked out the window and thought, 'Oh yeah, now I know where I am.'"
That place is the Big Apple, where, sometime after 6:30 tonight at Madison Square Garden, Aldrich and former KU teammates Xavier Henry and Sherron Collins will learn the location of the city they'll wake up in a lot during the next few years.
For Aldrich, a humble guy from Bloomington, Minn., the last few days have been unlike any that came before them. Known in Lawrence as a fan favorite, one who would stay longer than most to sign autographs after games at Allen Fieldhouse, Aldrich's tour of New York has taken things to a completely new level.
In addition to being in awe of the size of the city around him, Aldrich was on the go from about 8 a.m. to 9 p.m. Wednesday. Today figures to be even crazier.
A late dinner, at a private room at Landmarc Restaurant in the Time Warner building, was the first time the former KU center saw his parents since a brief, two-minute rendezvous just before speaking to the media around noon.
Aldrich's time was in such high demand Wednesday, he actually brought a box lunch with him to the media session and even then was unable to find time to eat it. This from a 6-foot-11, 245-pound guy on the verge of becoming a millionaire.
Aldrich's day was set up by his agents at Excel Sports Management, a company that also represents former Jayhawks Paul Pierce and Mario Chalmers. His appearances included official NBA-type things like mandatory meetings and the media session as well as Jay-Z type things like a trip to the Sean John store just off Times Square, where he was pampered by everyone in the building.
While in the store, Aldrich — who agreed to let the Journal-World join his shopping excursion and hang out with him during his big day — was photographed hundreds of times and also was fitted for a new designer suit, though not the one he'll wear to tonight's draft.
So swanky was the experience that at one point, when Aldrich and his girlfriend, KU student Britt Claflin, were in the back picking out the suit's particulars, a woman emerged from the suite and said, "Mr. Aldrich would like a cranberry juice." Within seconds, a bartender chipped the ice, popped the top and served up a refreshing beverage.
Between stops, autograph seekers rushed Aldrich's car as it came and went, an experience largely foreign for the big fella, considering none of the fans were wearing Jayhawk blue.
Despite the rapid pace of it all, Aldrich did not seem one bit bothered. In fact, he was so eager to meet and greet that he actually went out of his way to hug a guy whom he assumed to be Usher at the Sean John store. It wasn't, but even that brought a smile to Aldrich's face.
"I'm just really trying to take everything in," he said. "Very few people ever get to experience this in their life so I'm just trying to enjoy the moment but also just be relaxed."
Fittingly, that was easiest for him to do during an hour-long session at the Garden, where he and a dozen other likely lottery picks worked out on the floor of the famous arena and helped preach the importance of physical fitness to 100 children from the area who worked out with them.
"It feels great to give back to the kids," Aldrich said. "Plus it lets us get away from the nerves for a little bit and have fun."
Hearing that Aldrich was a little nervous came as no surprise for Claflin, who said she sensed something a little off about the former KU center at different points during the day Wednesday.
"I have never seen him act this nervous," she said. "To everyone else he probably looked cool, calm and collected. I think I was the only one who could tell."
For both Aldrich and Henry, the nervousness they experienced came more from the uncertainty of everything. Both said throughout the day that they truly did not care where they wound up, just as long as they were playing in the NBA when it was all over.
"I just want the draft to get started," the 6-foot-6 Henry said. "I know it's a little nerve-racking because you don't know what team you're going to or what's going to happen, but I'm kind of to the point where I'm just ready to go get some workouts in, go to summer league and do stuff like that."
Having a former teammate in tow throughout the process helped both players keep the nerves in check.
"Xavier and I have become good friends over the course of the last year," Aldrich said. "It's just fun to be around him and to have another familiar face, another guy, that I can share these moments with."
Aldrich's day was not unlike what the other 15 or so potential lottery picks went through on Wednesday. But it was much different from the life he's known as one of the tallest men in Lawrence during the past few years and a far cry from his humble beginnings in Minnesota, where he grew up rooting for the Timberwolves. Now, he's anxiously awaiting word on who he'll root for next.
"When I first started playing ball (playing in the NBA) was a distant dream," Aldrich said. "The dream then was to go to college and get a scholarship to play at a university. But once I went through my freshman year, when we made the run in the tournament and won it all, I kind of had it in the back of my mind that maybe this might be a reality someday."
As the draft creeps closer and Aldrich takes a few more steps toward that "someday," the reality of it all has been mind-blowing.
"(After the draft), I'll know what I'm going to make for the next three years," Aldrich said of the fat paycheck that soon will be deposited into his bank account. "That's cool, but it's also a weird thing because I've been going from scholarship check to scholarship check. I go buy food and then we want to go out to a nice dinner and it's like, 'Oh, geez.' This is sort of the same thing but on a larger scale."
Added Claflin: "Two and a half years ago, I probably would've laughed in your face if you would've told me that someday I'd be in New York at the draft."
Copyright 2018 The Lawrence Journal-World. All rights reserved. This material may not be published, broadcast, rewritten or redistributed. We strive to uphold our values for every story published.