South Africa 2, France 1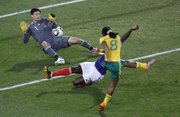 Bloemfontein, South Africa — Strutting into the stadium dancing and singing, Bafana Bafana turned its final game at the World Cup into a rollicking party for all of South Africa. All that was missing was enough goals to see them through to the next round.
For France, Tuesday's loss completed a miserable meltdown.
With each team needing a big win to have any chance of moving on from Group A, both stuck to character. South Africa played eager and aggressive soccer. France imploded.
In the end, neither survived the group stage. But Bafana Bafana players left with their heads held high.
"The fighting spirit was there," said Katlego Mphela, who scored one of South Africa's goals. "It's a bit unfortunate, but we beat France in the World Cup."
Bongani Khumalo scored in the 20th minute when he outjumped France midfielder Abou Diaby to knock a cross from Siphiwe Tshabalala into the net with his shoulder. Mphela doubled the lead 17 minutes later, outmuscling defender Gael Clichy to reach a low cross from Tsepo Masilela and knock the ball across the line.
Substitute Florent Malouda scored for France in the 70th.
France leaves the tournament with a single point, from a 0-0 draw with Uruguay, and a single goal. Worse, it has become the shame of a proud nation.
On Tuesday, the 2006 runner-up was forced to play with 10 men after Yoann Gourcuff was ejected for elbowing Macbeth Sibaya in the 25th minute.
French soccer has been a mess ever since sports daily L'Equipe printed details of striker Nicolas Anelka's expletive-filled rant at coach Raymond Domenech during halftime of last Thursday's 2-0 loss to Mexico.
The French soccer federation sent Anelka home Saturday and the French players protested by refusing to practice the following day. Footage of the players refusing to come out of the team bus was beamed home to stunned fans.
Not even a dressing down by French sports minister Roselyne Bachelot on the eve of the match could inspire Les Bleus. Bachelot called an emergency meeting Monday to tell the players they had let the country down and had one last chance to redeem themselves.
"It's your kids, our children, for whom perhaps you will no longer be heroes," said Bachelot, who told reporters she left the players in tears. "It is the dreams of your partners, your friends, your fans that you have perhaps broken. You have tarnished the image of France."
In the stands, one fan flew a French flag with the word "shame" emblazoned on it.
Back in Paris, thousands of people watched the match broadcast on a screen across from the Eiffel Tower. It was a frustrating afternoon.
"It's funny, France is worthless," said 17-year-old fan Victor Malamoud.
South Korea 2, Nigeria 2
Durban, South Africa — South Korea reached the second round from Group B as Lee Jung-soo and Park Chu-young scored. Kalu Uche had given Nigeria the lead in the 12th minute, then Ayegbeni Yakubu netted a 69th-minute penalty kick to draw Nigeria level again — moments after Yakubu missed a wide open net.
South Korea reached the World Cup knockout stage away from home for the first time. The only other time South Korea got beyond the group stage was when the team surged to the semifinals in 2002 on home soil as tournament co-host with Japan.
The Korean substitutes sprinted onto the field and hugged their teammates at the final whistle, then danced in front of a small group of flag-waving fans.
Nigeria became the second African team to fall out of the first World Cup held on the continent.
Argentina 2, Greece 0
Polokwane, South Africa — Martin Demichelis and Martin Palermo scored second-half goals Tuesday to help Argentina win Group B. Argentina will play Mexico on Sunday in Johannesburg, while Greece was eliminated.
Argentina left seven regulars on the bench and created few good chances.
Demichelis scored from short range in the 77th minute after his header bounced off Diego Milito and back into his path. Palermo's came in the 89th from a rebound after Greece goalkeeper Alexandros Tzorvas saved a shot by Lionel Messi.
Just minutes earlier, Messi's hard, left-footed shot hit the near post.
Messi was given the captain's armband for the first time, making him the youngest Argentina captain ever at 22.
Copyright 2018 The Associated Press. All rights reserved. This material may not be published, broadcast, rewritten or redistributed. We strive to uphold our values for every story published.