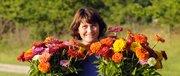 Wine. Food. Friends. Fun. Wine tastings incorporate all of those things and add a heavy note of education, too.
And you don't have to go to an official event or track down a sommelier to hold one. All you need is a set of wine glasses and a bunch of game friends.
Lynn Byczynski found just that when she and husband Dan Nagengast decided to start a wine-tasting group five or six years ago. She says they were inspired after picking up the book "Windows on the World Complete Wine Course," by Kevin Zraly.
"We wanted to learn about wines ourselves and thought it would be fun to make it an ongoing social event, so we invited people who are interested in food, farming and travel," says the Lawrence resident. "We started with about a dozen people, and we have been meeting bimonthly ever since."
The group started out following the book's regional approach to grouping wines before branching out into more creative and timely themes. Each of the core group of 13 takes turns hosting the events and doing a bit of research, and the guests all bring food compatible with the night's theme.
"We've done organic wines, local wines," Byczynski says. "And — when the recession hit — inexpensive wines."
Group member Madeline Finch says she's not only learned that she actually doesn't mind sweet rosés — something she thought she'd hate — and that blind tastings can be fun, but that she's had a great time while getting educated on the world of wine.
"Each time we get together is just so much fun — there is nothing like good food, good wine and good friends to contribute to a good time. We have some wonderful conversations and discussions."
Want to host your own event? It's pretty easy, say the wine experts we talked to. All you have to do is a bit of planning and dedicate yourself to forgetting the rules, say our experts: Ellie Baer, store manager at Roy's Wines & Spirits, 721 Wakarusa Drive; Michelle Meyer, co-owner of Holy-Field Vineyard and Winery in Basehor, and Regan Lehman Pillar, owner of Culinaria Food and Wine catering service.
Some of their tips:
Pick a theme. Before contacting guests, figure out a theme for your tasting. There are a number of different directions to go, but the trick is to make sure there's a theme so that the tasting is educational, varied and cohesive, says Lehman Pillar.
"The first thing you want to think about is what style of wine, or what you want to gain from holding a party that has a wine-tasting element to it," Lehman Pillar says. "There are several ways to organize a wine tasting, the two most common are either by region ... or we can look at it from a varietal standpoint, which is the grapes."
Consult the experts.Not sure where to start? You can consult a book like Byczynski, head to the Internet or just head to your local wine store. Baer says wine sellers not only know their stuff but also can contact vendors if you're looking for something in particular.
Spread the wealth. Make sure that everyone in the group is contributing wine to the events, and put a cap on the amount spent, if possible, so that no one feels like they're taking on a big chunk of the group's costs. Also, talk about investing in group stemware. You don't have to do it right away, but if you get a regular group together, it might be a good idea to invest in great glasses, says Meyer.
Be mindful of food. Food and wine are natural bedfellows, but at a wine tasting they also must stay out of each other's way. Meyer suggests having food before or after but not during, while Lehman Pillar recommends that if eating and drinking at the same time, to be careful of the ensuing combination.
"There's the old sort of blanket-type of rule that white meats go with wines, and red meats go with red wines. That's not in and of itself incorrect, that's perfectly fine as a basic rule for people to follow. However, a more comprehensive notion is to think about food and wine in terms of weight," Lehman Pillar says. "Lighter foods pair best with lighter wines; heavier foods pair best with heavier wines."
Remember to pour small amounts, and have a dump dish. Make sure not to pour full glasses and to have a designated place for guests to pour out their wine, so there's no need to finish it. The object is to taste, not to finish everything.
"When you're sampling wine like that, you're not pouring a glass of wine," Meyer says. "(You want) enough to get it in the glass and make sure you can swirl it around good and get good taste from it, but you don't want a full serving."
And while you're at it, make sure to have sparkling water around for a designated driver — you can never be too careful, Meyer says.
Most of all, have fun. A wine tasting is meant to be a good time for everyone, not drudgery — don't make it about the "rules" of wine, and don't be intimidated by the drink, either.
"Wine group is a wonderfully convivial event, full of good conversation and laughter," Byczynski says. "I'm still not a wine expert — it turns out I have no taste memory, so I forget the wines as soon as I drink them. It's the fun and friendship that I value most."
Copyright 2018 The Lawrence Journal-World. All rights reserved. This material may not be published, broadcast, rewritten or redistributed. We strive to uphold our values for every story published.