Pebble Beach, Calif. — Graeme McDowell stood in the cool early evening air not far from the 18th green at Pebble Beach late Sunday, hugging the silver U.S. Open trophy like it was his first-born.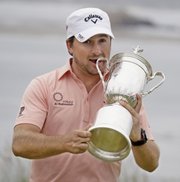 A few minutes earlier, McDowell had won the U.S. Open by a single stroke over Frenchman Gregory Havret while the game's brightest names — Tiger Woods, Phil Mickelson and Ernie Els — had been undone by their own mistakes on a gray, cool Sunday that each could have seized.
But it was McDowell, a 30-year old from Northern Ireland, who had emerged with the championship, becoming the first European since Tony Jacklin 40 years ago to win the U.S. Open.
"I think I've died and gone to heaven. This can't be real," McDowell said after posting a final-round 3-over-par 74 that was good enough for him to win at even-par 284.
It was as real as the aches that others took away as souvenirs. No pain was greater than that of Dustin Johnson, who brought a three-stroke lead into the final round then collapsed, shooting 82, the highest closing score by a third-round leader in 99 years.
Havret, the 391st-ranked player in the world, was left to lament poor putts on the last two greens. Woods made four bogeys in his first eight holes on Sunday. Els double-bogeyed the 10th hole after having a share of the lead. Mickelson hit too many ragged shots.
It left McDowell, whose game is built on the requirements necessary to win the U.S. Open — consistent ball-striking, steady putting and a sunbeam mindset.
When he left Wales two weeks ago having won his fifth European Tour title, McDowell came to the bluffs along Carmel Bay believing he could win the Open.
Though he dropped three shots over the closing 10 holes Sunday, McDowell had enough cushion to win with a two-putt par from 20 feet at the famous 18th.
"I'm playing the golf of my life right now," said McDowell, who shot 71-68-71-74.
Johnson, who started the final round at 6-under, made it possible with a sudden, stunning collapse that will be remembered on U.S. Open Sundays for years to come.
After parring the first hole, Johnson (who shot 66 on Saturday) made a triple-bogey at the par-4 second with a wedge in his hand for his second shot. He compounded his trouble by losing his tee shot at the third, tacking on a double bogey. In less than 30 minutes, Johnson lost five shots to par, his lead and his composure.
It was an epic meltdown.
McDowell's other challengers went slower to their fates.
Woods bogeyed the first hole, almost immediately negating the good vibes that might have carried over from his scintillating Saturday. He never looked sharp, shooting 75 and saying three mental mistakes "cost us the Open."
Mickelson's birdie at the first hole Sunday ignited a roar that boomed around Pebble Beach but it offered false hope. It was the only birdie he made in a final-round 73 that left him tied with Woods for fourth, three behind McDowell.
"I was glad it wasn't a second," Mickelson joked sarcastically, referring to his five previous runner-up finishes in the Open.
Els had nothing to say after squandering a chance to add a third U.S. Open to his collection. He was tied for the lead through eight holes before his game went soft, starting with a double-bogey at the 10th when he hit his tee shot onto an oceanside cliff.
It was Havret who offered the most resistance to McDowell. Hardly known on the world stage, he outplayed Woods in their final-round pairing and had an 8-foot birdie putt on the 72nd hole that could have forced a playoff — and McDowell's hand — had he made it.
"That's a very bad putt," Havret said of the miss. "Probably the worst of the week."
Cradling the trophy he'd just won, McDowell studied the names etched into it, a chapter in the game's history that now includes him.
"There are not too many bad players on this trophy," McDowell said. "Careers are defined by major championships. My career is off and running."
Copyright 2018 The Lawrence Journal-World. All rights reserved. This material may not be published, broadcast, rewritten or redistributed. We strive to uphold our values for every story published.