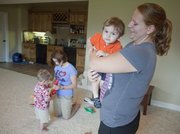 Family requirements
Au pair host family requirements include, but are not limited to:
• Provide an appropriate private room and three meals a day for the au pair
• Be U.S. citizens or legal permanent residents fluent in spoken English.
• Give the au pair at least one complete weekend off each month.
• Facilitate care provider to fulfill her educational requirements, including payment of up to $500, fees and tuition.
• Never leave an au pair in sole charge of a child under three months of age.
For complete information and links to approved sponsoring agencies: Exchanges.state.gov
Attorney and mom Gina Spade believes she hit the mother lode of child care when she discovered au pairs.
"An au pair is like a nanny, but from another country and more affordable," Spade says. "It's an option that not many people in Lawrence have heard of."
Spade, her husband, Joe Mastrosimone (also an attorney), and their three children are one of only two families in Lawrence who has an au pair.
"We lived in D.C. before we moved back to Kansas, and they were a lot more popular there," she says.
The family's second and current au pair, Jessica Zachmann, hails from Germany and has lived in Spade/Mastrosimone's west Lawrence home since October. She receives room, board, use of a family car, and a modest salary in exchange for providing child care for Zack, 5, Katie, 2, and Greta, 1.
"Jessie has a degree in early childhood education — it's like a two-year community college degree — and she had worked full-time for a year in a preschool in Germany," Spade says. "We decided that would work best for our family since we have three very little kids."
Spade connected to Zachmann through Au Pair in America, one of several legal agencies matching foreign nationals with U.S. families.
"The agencies have to be approved by the State Department because there are very formal rules related to how things have to happen and how they have to be paid, that kind of thing. Because (au pairs) have to get a visa to work, the State Department governs all that," Spade says.
Au pairs must be between 18 and 26 years of age, proficient in spoken English and a secondary school graduate or the equivalent. They are required to return home after two years.
Twenty-two-year-old Zachmann became an au pair in order to travel and experience American family life. She was undaunted by the challenge of looking after Spade's young and demanding brood. In fact, she says the biggest adjustment was downsizing her responsibilities.
"It was strange going down from 17 kids to three kids, because I worked in a day care center before this," Zachmann explains. "It's different having just three kids. I had one family from D.C. who wanted to hire me and I told them 'no' because they only had one child, and I thought I would be bored to death."
Zachmann has traveled with Spade's family to other parts of the country, like Oklahoma and Washington, D.C., and was able to join her own family at DisneyWorld in Orlando, Fla., during her U.S. stay.
Au pairs are not permitted to work more than 10 hours a day, 45 hours a week, leaving Zachmann free to attend English classes at Johnson County Community College. She spends her free time hanging out with her fellow au pairs in the Kansas City area.
Jasmin Weimer, also from Germany, is Jessica's friend and the only other au pair in Lawrence.
"We met online in the au pair forum, and I was like, 'Is there anybody in Kansas?' She said she had just extended after her first year and would be here another year," Zachmann says. "She was the person who introduced me to the other au pairs."
"I finished school in 2008, and I didn't know what I wanted to study," Weimer recalls. "So, I decided to go abroad. I watched kids the whole time I was in school and taught swimming lessons, so I became an au pair."
"With Jessie and my other friends, I go shopping and to the movies all the time. I really like it."
The program is mutually beneficial for parents and au pairs, and the kids reap multicultural rewards, as well.
"When there are things in the news about other countries, we have a map in Zack's room and we can show them where people are from," Spade points out. "We watch 'Amazing Race' as a family, with Jessie, and this year they went to Germany, and that was fun. They also get a bit of language because she teaches them words in German. That was part of the appeal for us — the cultural piece as well as the child care piece."
Copyright 2018 The Lawrence Journal-World. All rights reserved. This material may not be published, broadcast, rewritten or redistributed. We strive to uphold our values for every story published.