Pebble Beach, Calif. — There was no other choice: Lefty had to play righty.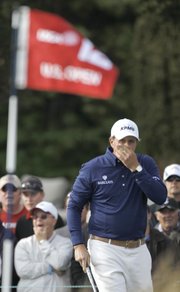 And that choice on the ninth hole almost became a footnote to Phil Mickelson's wild third round on Saturday.
Lefty went home Saturday night seven shots out of the lead after a chaotic 2-over 73 that included right-handed shots, some remarkable saves and a trip to the beach on the 18th.
Unable to find any consistency, Mickelson did his best to give back much of what he accomplished a day earlier when his 5-under 66 got himself back near the top of the leaderboard.
Now he enters the final round needing to post a low number and hoping for the leaders to falter.
"I'm quite a few shots back, probably a few more shots back than I thought I would be ... but anything can happen on Sunday," Mickelson said.
Unable to continue the magic of a day earlier when the perpetual U.S. Open runner up raced back into contention, Mickelson tried taking multiple steps backward on Saturday.
He missed putts that dropped a day earlier. He tried questionable shots. Worst of all, Mickelson failed to take advantage of Pebble Beach's front nine that was ripe for scoring.
"I just gave back shots here and there," he said.
The result: a shaky round only buoyed by a trio of remarkable shots on the final three holes that left Mickelson in the chase position entering today's final round.
That's not a bad place for Mickelson. His last two titles — the Masters and Players Championship — were in come-from-behind fashion. But those weren't seven-shot deficits and on courses being primed to prevent low rounds.
"Yeah, Sunday at the Open a lot of things can happen. And I'll be off with the leaders, and I need to get hot in those first seven holes that you can make birdies," Mickelson said. "You can makeup a lot of ground if you make birdies Sunday at the U.S. Open. It will be challenging to make up that many shots."
Saturday was the erratic Mickelson, spraying shots all over Pebble Beach, scrambling to avoid imploding and making a handful of key shots to keep hope alive.
He rolled in a birdie putt at the 16th to get back to 1 over, only to pull his tee shot on the 17th near the grandstand well right of the green. Mickelson avoided bogey by getting relief from the grandstand, then deftly dropping a wedge within gimmie range.
Then came the 18th. His tee shot leaked to the left and danced along Pebble's perilous seawall before bounding into the rocks and beach below. Mickelson climbed down and momentarily thought about playing from the beach before taking a penalty.
It might have been his best decision of the day. From 242 yards Mickelson hit a long iron to about 30 feet then two-putted for a most unlikely par.
"I fought hard. I made some ridiculous up and downs out there today," Mickelson said, noting par saving shots on the 10th from the fescue and out of a bunker on the 14th. "It was fortunate to keep me in the round and in striking distance."
Copyright 2018 The Associated Press. All rights reserved. This material may not be published, broadcast, rewritten or redistributed. We strive to uphold our values for every story published.