Pebble Beach, Calif. — As Tom Watson walked up the 11th fairway Friday morning, fresh off an impressive birdie that left him at 2 under for his round, even his most ardent supporters lining the gallery wondered how long it would last.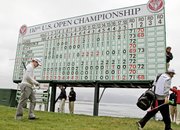 "I hope old Tommy Boy can keep it going," one said.
Watson couldn't keep the birdies dropping, or avoid a few costly bogeys in the second round, putting his U.S. Open future in doubt. But the golfer who forever defined Pebble's 17th hole with his chip-in from off the green to wrap up the 1982 U.S. Open title, gets at least two more rounds at the season's second major.
Perhaps some of Watson's magic at Turnberry last July will reappear over the weekend at Pebble.
Watson's even 71 left him at 7 over. Thanks to Graeme McDowell's bogey on his final hole that left the leader at 3 under, Watson's 149 total meant he sneaked under the cut line — barely.
Watson will play the weekend thanks to the 10-shot cut rule. His goal for the day was to shoot 2 under, and Watson reached that number midway through his round, only to see a few costly shots take away his cushion.
"I hate to miss the cut, I really do," Watson said after his morning round finished. "It just grates on me when I miss the cut. I hate it, I always have."
Now he can focus on playing the weekend. Watson becomes the second-oldest player to make a U.S. Open cut, just behind Sam Sneed, who played all four rounds at age 61 in 1973. It's the 25th time he's made the cut at the U.S. Open.
Just in case Friday was the end for Watson, his adoring fans on the Monterey Peninsula made sure Watson felt loved and appreciated. He heard encouragement on every fairway and around every green. Watson walked up to a standing ovation from the grandstand at No. 17, the site of his famous birdie on the 71st hole in '82, and received another roaring ovation from the patrons around the 18th green.
Copyright 2018 The Associated Press. All rights reserved. This material may not be published, broadcast, rewritten or redistributed. We strive to uphold our values for every story published.